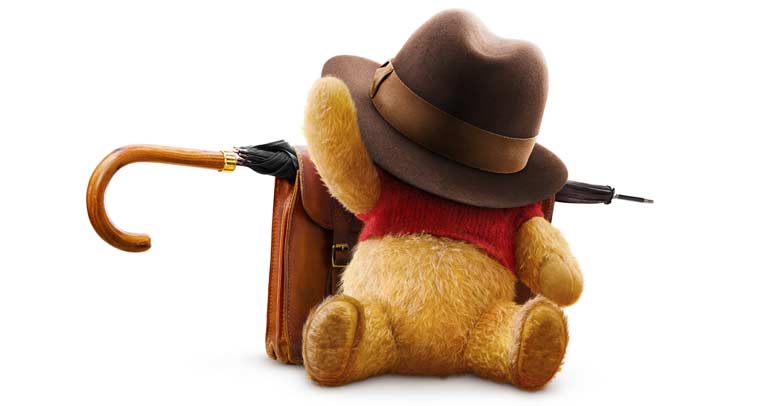 There are many advantages to living in Southern California if you're a Disney fan. You're close to Disneyland, there's the history of Walt Disney in Hollywood, and the beautiful Disney owned movie palace smack dab in the middle of Hollywood. We're talking, of course, about the El Capitan Theatre which plays host to Disney's myriad movie productions.
Soon Hollywood's legendary El Capitan Theatre will present a special engagement of Disney's "Christopher Robin" from August 3 – August 26, 2018. Tickets are now on sale at www.elcapitantickets.com, by calling 1-800-DISNEY6 and at The El Capitan Theatre box office.
"We are thrilled to re-visit the Hundred Acre Wood with Disney's 'Christopher Robin' and the best place to begin the journey is none other than The El Capitan Theatre," said Ed Collins, General Manager of The El Capitan Theatre. "Through August 12, El Capitan Guests will see our display of Winnie the Pooh, Piglet, Eeyore and Tigger stuffed animals used in the making of the movie. These 'stuffies' – as they were affectionately referred to on set – were created using manufacturing processes that would have existed in the 1920s when the original toys were made."
Collins continued, "El Capitan Guests can even be the first to see the movie and receive an exclusive poster by attending our Special Opening Night on Thursday, August 2 at 6:00pm."
From August 2 through August 5, and August 11 and 12, guests of the theatre will be entertained by The Side Street Strutters Jazz Band from Disneyland ahead of the show.
Tickets to The Special Opening Night are $30 each and include a Reserved Seat, Popcorn and 20 oz Bottled Drink and Exclusive Poster.
Daily showtimes for Disney's "Christopher Robin" are 10:00AM, 1:05PM, 4:10PM, 7:15PM, and 10:20PM* (*10:20PM Show Opening Weekend, August 3 and 4). Showtimes and dates are subject to change.
Special group rates for Disney's "Christopher Robin" of $10* for parties of 20 or more are available by calling 1-818-845-3110.
Hard Rock Cafe movie & meal package: $40.00 per person. Each ticket package includes: reserved seat (no concessions) to see the movie at The El Capitan Theatre, and a meal at Hard Rock Café. Reservations are required in advance (tickets must be booked no later than 24 hrs business days). This offering is available for all showtimes August 3, 2018 – August 26, 2018. Guests will choose one entrée from special Hard Rock Cafe menu at the time of their seating. Tax & gratuity included. Does not include alcohol – guests can purchase and pay on their own.
Tiny Tot Tuesday: The El Capitan Theatre will also host a very special Tiny Tot Tuesday for the first show every Tuesday during the run of Disney's "Christopher Robin". During these special screenings, parents and small children may enjoy the movie in a tot-friendly way—with lights dimmed rather than out and reduced sound levels.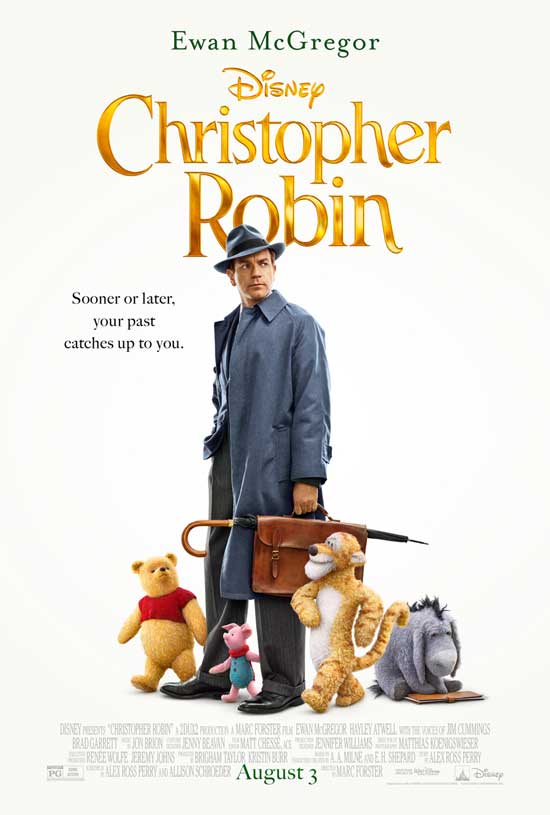 About the film:
In the heartwarming live action adventure Disney's "Christopher Robin", the young boy who embarked on countless adventures in the Hundred Acre Wood with his band of spirited and lovable stuffed animals, has grown up and lost his way. Now it is up to his childhood friends to venture into our world and help Christopher Robin remember the loving and playful boy who is still inside.
Disney's "Christopher Robin" is directed by Golden Globe nominee Marc Forster ("Finding Neverland") from a screenplay by Alex Ross Perry ("Golden Exits") and Oscar nominee Allison Schroeder ("Hidden Figures") and a story by Perry based on characters created by A.A. Milne and E.H. Shepard. The producers are Brigham Taylor and Kristin Burr with Renée Wolfe and Jeremy Johns serving as executive producers. The film stars Golden Globe winner Ewan McGregor ("Fargo") as Christopher Robin; Golden Globe nominee Hayley Atwell ("Agent Carter") as his wife Evelyn; Bronte Carmichael as his daughter Madeline; and Emmy winner Mark Gatiss ("Sherlock") as Giles Winslow, Robin's boss. The film also features the voices of: Jim Cummings ("Winnie the Pooh") as Winnie the Pooh and Tigger; three-time Emmy winner Brad Garrett ("Everybody Loves Raymond") as Eeyore; Golden Globe nominee Toby Jones ("Harry Potter and the Chamber of Secrets") as Owl; Nick Mohammed ("The Martian") as Piglet; Oscar winner Peter Capaldi ("Dr. Who") as Rabbit; and Oscar nominee Sophie Okonedo ("The Secret Life of Bees") as Kanga.
Disney's "Christopher Robin" will be released nationwide August 3, 2018 and is rated PG.