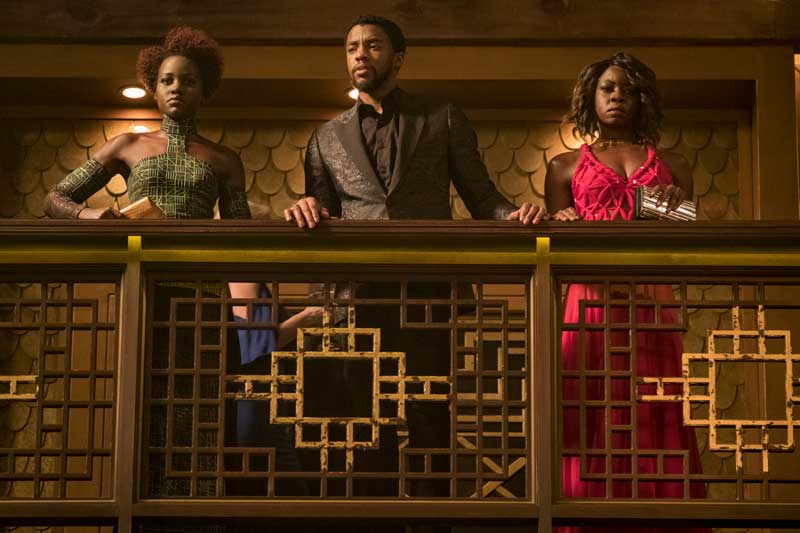 It's The Oscar's weekend and Black Panther is still striking gold at the box office. By the end of Sunday the super hero from Wakanda could have grossed nearly $900 Million. This breaks down to an estimated $501.1M domestically and $396.6M internationally.
The popular, critical, and cultural phenomenon that is Marvel Studios' Black Panther reigned for the third weekend in a row with $65.7M beating out newcomers Red Sparrow ($17M) and Death Wish ($13M). This places Black Panther near the top of another list with the third-largest third weekend ever behind "Star Wars: The Force Awakens" ($90.2M) and "Avatar" ($68.5M).
Directed by Ryan Cooger and starring Chadwick Boseman, Lupita Nyong'o, and Michael B. Jordan, the latest movie in the Marvel Cinematic Universe will shortly join an elite club of other Marvel super hero films that have earned $900M at the box office joining, "The Avengers" ($1.52B), "Avengers: Age of Ultron" ($1.4B), "Iron Man 3" ($1.2B), and "Captain America: Civil War" ($1.15B).
Black Panther opens in China soon and by the end of next weekend Black Panther is expected to have surpassed an impressive $1 Billion at the box office making for a really nice start of the year for The Walt Disney Studios. The question is how high will it climb? Add your guesses below!