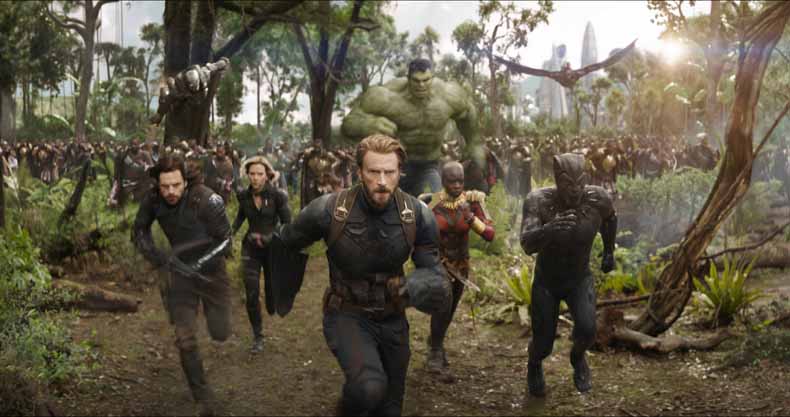 For everyone who cleared their Calendars for May 4th to watch "Avengers: Infinity War," you will need to tear out that page and start again with April 27. Yes, that's right Disney has bumped up the release date for the next movie from the Marvel Cinematic Universe in order to get an early start on the summer blockbuster season.
To top if off, Disney and Marvel has announced that April 27th will be a worldwide opening date. Meaning fans in almost all markets around the globe will be able to experience the film together. I think this means they're worried about spoilers ruining the movie experience. So you might want to plan to see it opening weekend if that sort of thing worries you.
The news was announced in a bit of a fun twitter exchange between Robert Downey Jr and Marvel Studios:
Any chance I could see it earlier?

— Robert Downey Jr (@RobertDowneyJr) March 1, 2018
The entire world?

— Robert Downey Jr (@RobertDowneyJr) March 1, 2018
Why did Disney and Marvel move the release up? Well at least partially because it wanted to move away from "Deadpool 2." Fox had recently moved that movie's release up from June 2 to May 18, which I'm sure activated Disney's Spidey-sense. By the same token, it gives "Solo: A Star Wars Story" a little more distance from Infinity War. More time for Disney to provide good marketing for the Lucasfilm stand-alone pic.
The next question is how big of an opening can we expect for "Avengers: Infinity War?" I think everyone is expecting Infinity War to open bigger than "Black Panther," thanks in part to that film's box office success leading to all those fans wanting to see their favorite characters on the big screen again (most of the cast of Black Panther also appears in Infinity War). Is the $248M opening of "Star Wars: The Force Awakens" potentially in play? What do you think?
Let's all watch that fantastic Infinity War trailer again to celebrate:
Just 56 days until showtime!
About the film:
As the Avengers and their allies have continued to protect the world from threats too large for any one hero to handle, a new danger has emerged from the cosmic shadows: Thanos. A despot of intergalactic infamy, his goal is to collect all six Infinity Stones, artifacts of unimaginable power, and use them to inflict his twisted will on all of reality. Everything the Avengers have fought for has led up to this moment – the fate of Earth and existence itself has never been more uncertain.
Marvel Studios' "Avengers: Infinity War" will debut worldwide on April 27th.