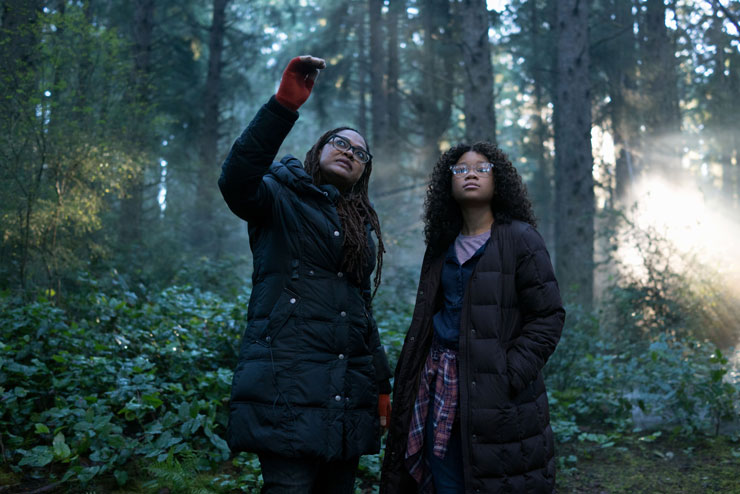 When Disney gave a big screen adaption of Madeleine L'Engle's classic novel "A Wrinkle in Time" the green light, I was pleased to see Ava DuVernay's name attached as Director. She had made a splash at the Sundance Film Festival for her second feature "Middle of Nowhere" and her work on "Selma" made her the first black female director to be nominated for a Golden Globe and an Academy Award.
Disney trusted DuVernay with a budget north of $125 million for "A Wrinkle In Time" which now makes her the first black woman to direct a live-action movie with a budget of that size. She follows Patty Jenkins who was the first overall woman to direct a film ("Wonder Woman") with budget of over $100M.
Ava DuVernay recently talked to Marie Claire about how her work on "A Wrinkle in Time" differs from her previous films.
"I never had any intention of making a $130 million movie," DuVernay insists, sitting inside the private Burbank, California, screening room that once belonged to Walt Disney himself. The idea didn't occur to her because there were simply no precedents: Where were the black women filmmakers operating at the James Cameron and Christopher Nolan level in whose footsteps she could follow?
Talking about the book:
"It's a book that takes place out in the universe, but it's really about interiority. It's about who you are to yourself…how you see yourself from the inside out."

"Meg is imperfect," DuVernay continues affectionately of her protagonist. "And her journey is not to become perfect, but to embrace her faults, to know that no one is perfect—not even her father, who she thought was going to be the solution to all of her problems."
It's hard to believe that it's taken this long for a black female director to work on a film like "A Wrinkle in Time." Let's hope films like Wrinkle help open the doors for many more.
Watch the official trailer for Disney's A Wrinkle in Time
Get ready to bend space and time at a theater near you on March 9th
About the film
From visionary director Ava DuVernay comes Disney's "A Wrinkle in Time," an epic adventure based on Madeleine L'Engle's timeless classic which takes audiences across dimensions of time and space, examining the nature of darkness versus light and, ultimately, the triumph of love. Through one girl's transformative journey led by three celestial guides, we discover that strength comes from embracing one's individuality and that the best way to triumph over fear is to travel by one's own light.
Directed by Emmy winner and Oscar and Golden Globe nominee Ava DuVernay from a screenplay by Oscar winner Jennifer Lee based upon the beloved novel by Madeleine L'Engle, "A Wrinkle in Time" stars: two-time Academy Award nominee Oprah Winfrey, Oscar and Emmy winner Reese Witherspoon, Emmy nominee Mindy Kaling, Gugu Mbatha-Raw, Michael Peňa and introducing Storm Reid, with two-time Emmy winner Zach Galifianakis and Emmy nominee Chris Pine.
Produced by Jim Whitaker and Catherine Hand with Doug Merrifield serving as executive producer, the film also boasts an impressive creative team featuring some of the most talented artisans working today, including: Tobias Schliessler, ASC as director of photography, Naomi Shohan as production designer, Oscar-nominee Spencer Averick as film editor, two-time Academy Award-nominee Paco Delgado as costume designer and four time Emmy nominee Ramin Djawadi as composer.