Facebook's founder Mark Zuckerberg has just let the world know that content from pages like The Disney Blog will no longer show on your newsfeed unless you or a friend of yours shares it. This will severely diminish the return publications like The Disney Blog (even big publishers like ABC News) get from using Facebook.
If you want to continue to receive news about The Walt Disney Company, its theme parks, movies, and other properties from The Disney Blog, there are easy to use options you can use in addition to Facebook.
We hope you'll use one or more of the following techniques to remain a part of The Disney Blog community.
1) Choose to see The Disney Blog first in your news feed. If you select See First in News Feed from the following button on our page, Facebook will prioritize delivery of The Disney Blog to you.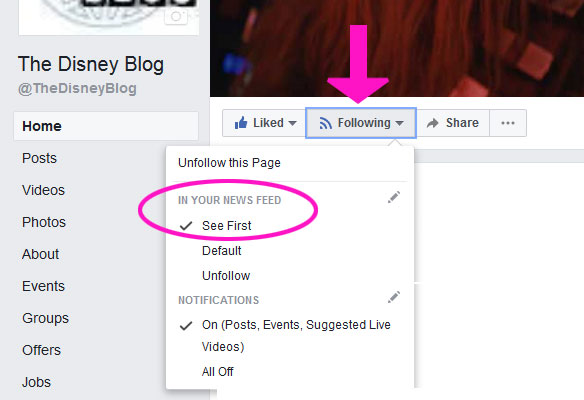 2) Follow us using an RSS feed reader. We use Feedly.com. It's free and available as an app and on the web. When you set up your account search for The Disney Blog or subscribe to https://thedisneyblog.com/feed. This works in other RSS feed readers.
3) Follow us on our other main social media accounts
A) Twitter
B) YouTube
C) Instagram
4) Subscribe to The Disney News List. This newsletter will deliver the top Disney news from The Disney Blog right into your inbox:
5) Follow my personal account on Facebook – John Frost. I share every post from The Disney Blog to my personal profile. You will also get to know me a lot better, so YMMV.
Doing one or more of the above will make sure you stay a valued member of The Disney Blog community. We hope you will choose to follow us and not let Facebook takeaway your Disney content with its new Newsfeed.
Finally, if you do see The Disney Blog content in your newsfeed, we hope you will continue to interact with it by commenting, reacting, and sharing it on your own timeline. It also helps if you use the 'social sharing' buttons on this website to share to your favorite social network.