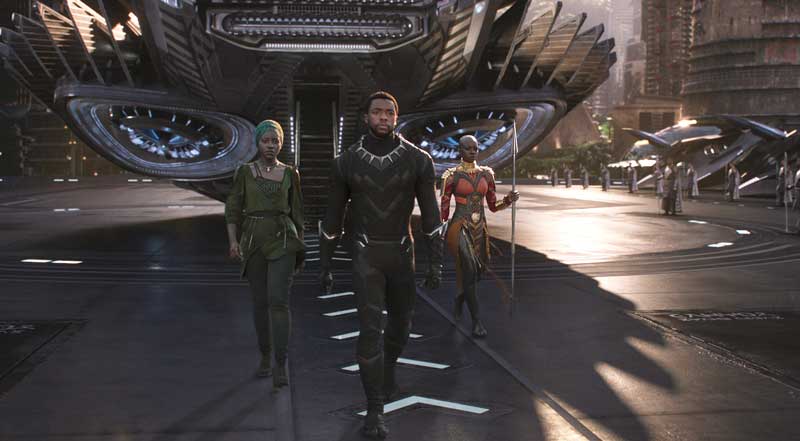 The latest Marvel Studios "Black Panther" trailer is the one preview I was hoping to see in front of "Star Wars: The Last Jedi," alas no such luck. Not sure why Disney wouldn't promote its next big film instead of "Avengers: Infinity War," but they did. The good news is there are a number of trailers to whet my appetite for more "Black Panther" footage on YouTube including a new TV spot.
The new spot is labeled "King"
Earlier this month Marvel released the "All-Star" TV clip
We're less than two months away from the premiere of director Ryan Coogler's vision for "Blank Panther." The film looks really good. The art direction itself is so powerful and the set design blows me away.
About the film:
Marvel Studios' "Black Panther" follows T'Challa who, after the death of his father, the King of Wakanda, returns home to the isolated, technologically advanced African nation to succeed to the throne and take his rightful place as king. But when a powerful old enemy reappears, T'Challa's mettle as king—and Black Panther—is tested when he is drawn into a formidable conflict that puts the fate of Wakanda and the entire world at risk. Faced with treachery and danger, the young king must rally his allies and release the full power of Black Panther to defeat his foes and secure the safety of his people and their way of life.
"Black Panther" stars Chadwick Boseman, Michael B. Jordan, Lupita Nyong'o, Danai Gurira, Martin Freeman, Daniel Kaluuya, Letitia Wright, Winston Duke, with Angela Bassett, with Forest Whitaker, and Andy Serkis. The film is directed by Ryan Coogler and produced by Kevin Feige with Louis D'Esposito, Victoria Alonso, Nate Moore, Jeffrey Chernov and Stan Lee serving as executive producers. Ryan Coogler & Joe Robert Cole wrote the screenplay.
Marvel Studios' "Black Panther" hits theatres on February 16, 2018.
Previously: Marvel Studios' Black Panther main trailer released.