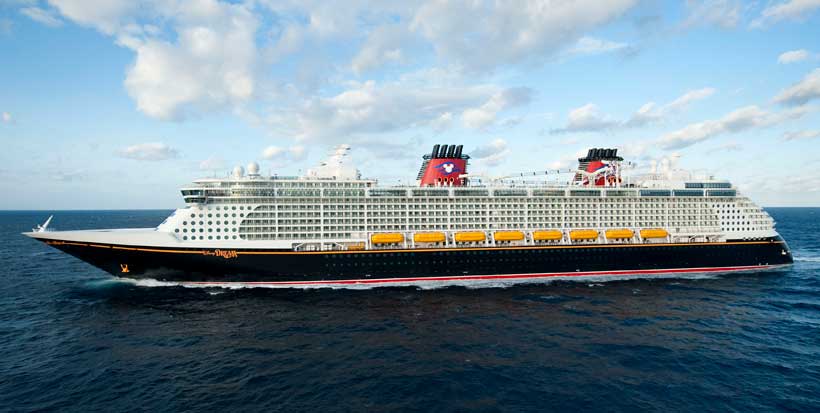 Update 9:30pm: New photos and video added below.
Update 10/1: repair is underway at Castaway Cay. See below
The stern area of the Disney Dream cruise ship suffered a large dent in its hull while docking in Nassau, Bahamas this morning. The ship was back into the dock when the collision took place. No reports or injuries and all the damage looks to be above the water line.
The #DisneyDream backed into a dock this morning in #Nassau! pic.twitter.com/0hbMP7ONVY

— Cruise Everyday (@cruiseveryday) September 30, 2017
The above photos were captured by Caitlin Maddaline a photographer for the blog Cruise Everyday. One shows the damage to the ship and the other to the dock.
Thanks to Judi Laplante for sharing the following image from a little later as inspections of the damage were underway: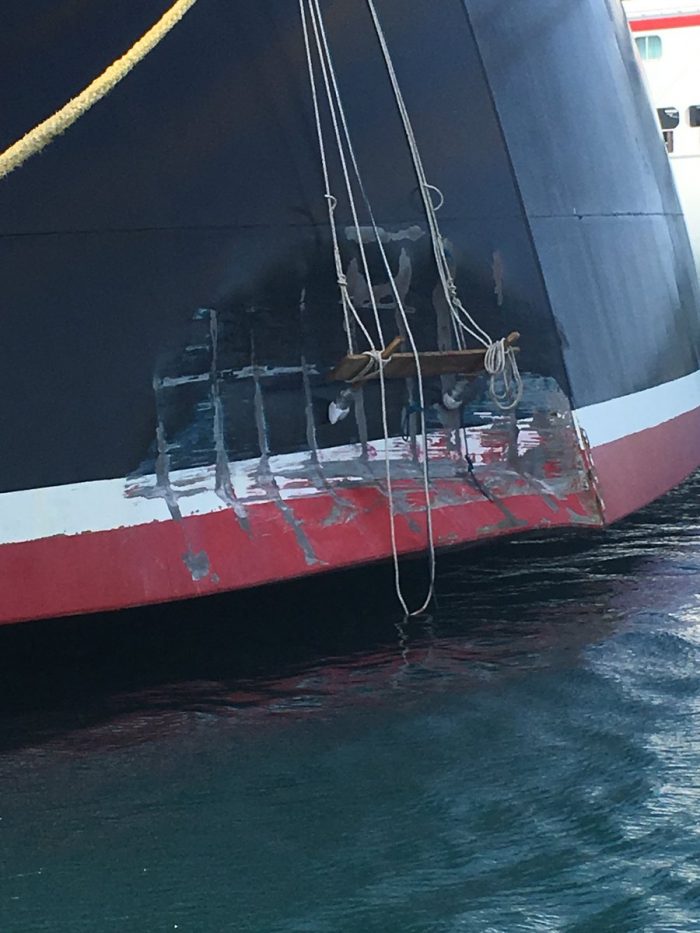 The hull damage was also was captured on a live web camera sailing out of port:
Oops — #fenderbender for #DisneyDream in #Nassau earlier today, departing now on https://t.co/EJRqRrPlWx @TheDCLBlog — thanks for tip! pic.twitter.com/qdyDbPwrhJ

— PTZtv (@PTZtv) September 30, 2017
Those on board the Disney Dream report that the cruise is underway and everything seems to be running as normal. The ship is in the middle of a 3-night cruise and expected to stop in Disney's private island Castaway Cay tomorrow.
Update: Video of the Disney Dream actually crashing into the pier is now online. Warning there is some adult language in the video. So watch on mute if you object to that sort of thing.
Update: by the next morning repairs were already underway.
The crew is already working on the damage this morning at Castaway Cay. pic.twitter.com/m04nkB3EZv

— Judi Laplante (@DisneywithJudi) October 1, 2017

It's possible repairs could be made in the course of normal operations. From other online reports, it looks like they' already made some repairs while at Nassau. I guess if you're going to damage your ship's hull, the stern above the water line is where you want to do it. But we're not experts in mega-sized ship repairs. Anyone out there have a more expert opinion than us?
(Official photo courtesy Disney and photographer David Roark.)