DC films at SDCC put on a good show, but then the super hero movie experts stepped on the stage in Marvel Studios Hall H panel. One of the highlights was the new trailer for Marvel Studios' Thor: Ragnarok which spread ripples of excitement across SDCC and the internet. If you haven't seen it yet, we've got it here.
There's a lot to see in the new trailer
It's Hulk and Dr David Banner. And Hulk talks (saying more than "Hulk Smash" too). Also great seeing Loki and Thor fighting side-by-side again. The fourth person is Tessa Thompson playing Valkyrie (an Asgardian).
Hulk had been in monster form for two years, so he picked up some English, and we also see him preparing to take on Surtur – that giant fire demon. Finally there's the final battle scene between Thor, using the infinity stone, and Hera should be pretty amazing. Watch the trailer again and keep your eyes out for the giant Norse wolf companion – Fenrir. Legend has it that Fenrir will eventually slay Odin.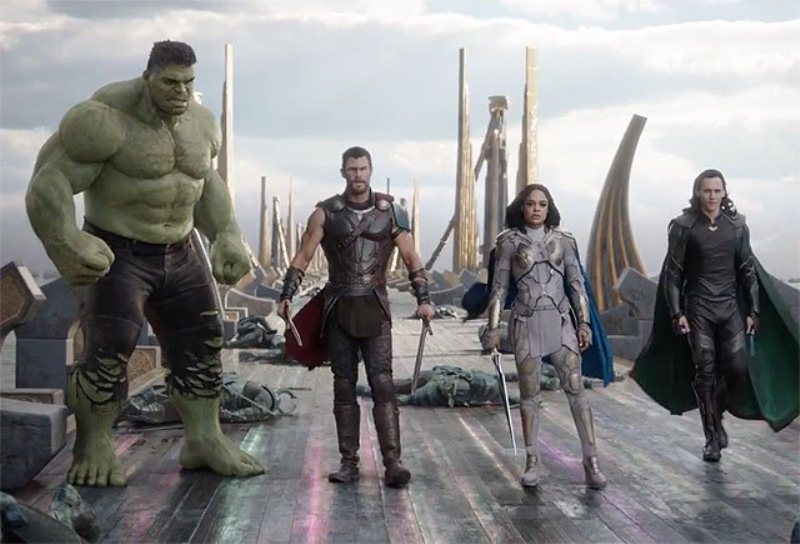 It like the very 80s vibe I'm getting from the trailer. Many have also identified it as having a "Guardians of the Galaxy" feel and I can totally feel that. Turns out director Taika Waititi can throw down with some humor and great action.
About the film:
In Marvel Studios' "Thor: Ragnarok," Thor is imprisoned on the other side of the universe without his mighty hammer and finds himself in a race against time to get back to Asgard to stop Ragnarok—the destruction of his homeworld and the end of Asgardian civilization—at the hands of an all-powerful new threat, the ruthless Hela. But first he must survive a deadly gladiatorial contest that pits him against his former ally and fellow Avenger—the Incredible Hulk!
"Thor: Ragnarok" is directed by Taika Waititi and returns Chris Hemsworth starring as Thor and Tom Hiddleston reprising his role as Loki. They are joined by Cate Blanchett, Idris Elba, Jeff Goldblum, Tessa Thompson, and Karl Urban, with Mark Ruffalo and Anthony Hopkins.
Kevin Feige is producing with Louis D'Esposito, Victoria Alonso, Brad Winderbaum, Thomas M. Hammel and Stan Lee serving as executive producers. The story is by Craig Kyle & Christopher Yost and Eric Pearson, and the screenplay is by Eric Pearson. Marvel Studios' "Thor: Ragnarok" thunders into U.S. theaters on November 3, 2017.