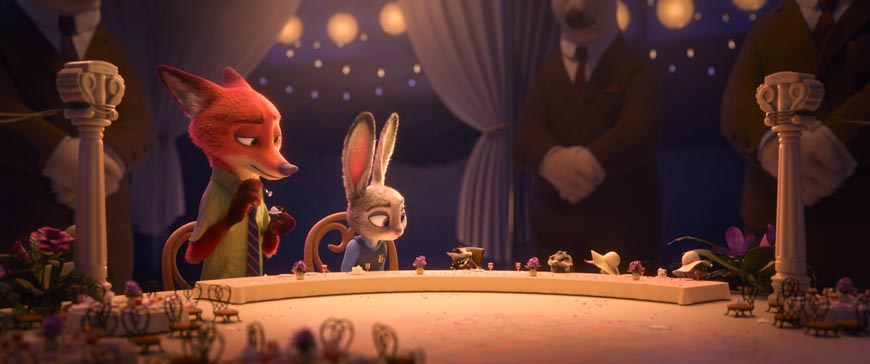 We love seeing Disney's films in the historic Hollywood movie palace El Capitan and we're excited about a second chance to see the Oscar Nominated (and Golden Globe Winner) animated feature "Zootopia" again.
For five days leading up to the Academy Award ceremony (Feb 20-25) the El Capitan Theatre will present Disney's "Zootopia" in Dolby Vision and Dolby Atmos. Dolby Vision delivers a dramatically different visual experience—astonishing brightness, incomparable contrast, and captivating color—that brings movies to life before your eyes. Dolby Atmos transports you into the movie with breathtaking, multidimensional sound that fills the theatre and flows all around you.
Daily showtimes are 10 a.m., 1 p.m., 4 p.m., and 7 p.m. Tickets are on sale now, available at the El Capitan Theatre (6838 Hollywood Blvd.), online at www.elcapitantickets.com. Show times and dates are subject to change.
About the El Capitan Theater:
Declared a Historic Cultural Monument by the City of Los Angeles and restored to showcase its original lavish architecture, The El Capitan Theatre has been since 1991 an exclusive first run theatre, equipped with state-of-the-art technology, for The Walt Disney Studios. The theatre also hosts live stage shows, world premieres, special events, and screenings of classic Disney films.
In the 1920s, real estate developer Charles Toberman and Sid Grauman built the Egyptian, Chinese and El Capitan theatres. Los Angeles based Stiles O. Clements designed the elaborate cast-concrete Spanish Colonial style exterior; San Francisco architect G. Albert Lansburgh, known for his design of over 50 West Coast theatres and luxury cinema houses, designed the lavish East Indian inspired interior.
Originally a legitimate theatre (over 120 plays and musicals were staged), it was converted for film for the world premiere of Orson Welles' "Citizen Kane." The theatre then was renovated, reopening in March 1942 as the Hollywood Paramount, a streamlined "art moderne" first run movie house.
In 1989, the Walt Disney Company joined forces with Pacific Theatres and launched a two-year, museum quality restoration of The El Capitan Theatre, led by renowned theatre designer Joseph J. Musil. Musil with the supervision of the National Park Service's Department of the Interior, and guidance from conservator Martin Weil and architect Ed Fields, achieved the goal recreating the original 1926 look and feel — including original design elements such as the ornate plasterwork found hidden behind walls and the opera boxes in the main auditorium.