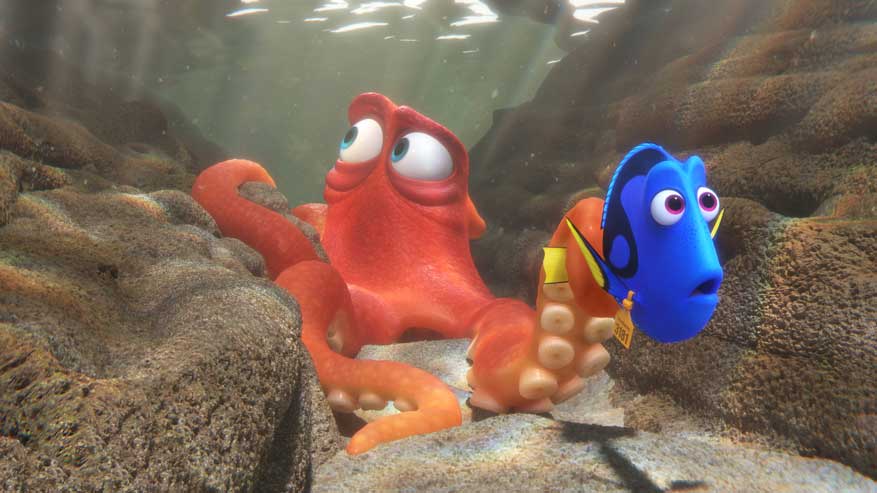 It's safe to say the breakout star of Pixar's latest return to the big blue world in "Finding Dory" was Hank the Octopus, er Septapus. According to the animation masters at Pixar, creating Hank was one of the most difficult parts of the animation process. A new bonus clip from the Blu-Ray release of "Finding Dory" goes behind the scenes with some fun facts and a bonus clip:
When designers were working on Hank, the cantankerous octopus in "Finding Dory," they created tapered tentacles for the cephalopod. The tentacles were modeled separately from the body, but when they tried to attach them, only seven would fit. Filmmakers later decided that it made sense that Hank would have an affliction, so they worked it into the script.
Hank's Fun Facts:
350 – suckers are found on Hank: 50 suckers on each of his seven arms.
11,041 – rigging prims were created just for Hank's simulation (the average character requires around 20).
118 – weeks were required of the team of technical directors who were responsible for building and articulating Hank.
22 – weeks were spent shading Hank to give him extra texture and color, as well as making it possible for him to camouflage himself. (An average character takes less than eight weeks.)
With just two months to go in 2016, "Finding Dory" ranks #3 on the worldwide box office gross list with $1.02B dollars. It's behind two other Disney films, "Zootopia" at $1.02B and "Captain America: Civil War" at $1.15B. Fourth place is also a Disney film – "The Jungle Book" is swinging in at $996.4M. Not too shabby Disney! Almost makes up for "Alice Through The Looking Glass."
Save up to 43% off your copy of "Finding Dory" Blu-Ray DVD Combo Pack if you pre-order today on Amazon. Your use of this Amazon link helps support The Disney Blog. Thank you.