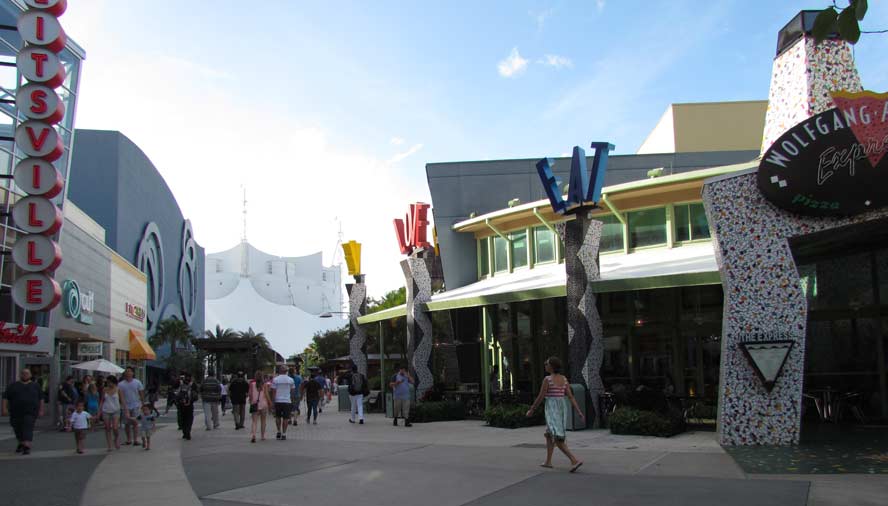 While Marketplace and Town Center got the lion share of improvements and expansion in the new Disney Springs, there have been a few subtle touches added to the Westside to help it tie-in closer to the 1950's era World's Fair story line for the area. This includes elevated train tracks, an exposition park, and now signage changes at two of the Disney owned stores.
Around a week ago the Super Hero Headquarters became the Marvel Super Hero Headquarters. That may seem like a simple change, but it's actually a big deal. Somewhere Disney's lawyers have either negotiated for the rights to use the Marvel name on Disney Property or determined that the contract with Universal doesn't prohibit this from doing so at Disney Springs. I wouldn't read too much into it, but it would be great if Disney does negotiate and buy back the rights to use Marvel in a central Florida theme park.
The other sign is for the Candy Cauldron. It's a new smaller sign with a more gothic font. Definitely more in line with the new industrial flair of the area. The old sign (seen partially below) was more 'county fair' than 'world's fair.' The interior is still the same.
Finally, there is a new small sign with menus for the Disney Food Trucks in Exposition Park at Disney Springs. The idea is to give guests one central menu to order off of, and then they go to the trucks to pick up their food separately. I'm not sure this is a good idea as it violates way people expect to order from Food Trucks, ie, from one window and pick up at the other. That's part of the fun too. This way it might as well be a food court.
It's also not a good sign that they're having to try and find more customers. From what I've seen there are plenty of people who stop by to check out the food trucks but a) either they're not open or b) they decide to go elsewhere. I'm not sure if that has to do with the selection or the prices, but I'm leaning toward the prices. Disney should try dropping prices by a $1 or $2 per item and see if business picks up after that.
What do you think of the new signs at Disney Springs' Westside?