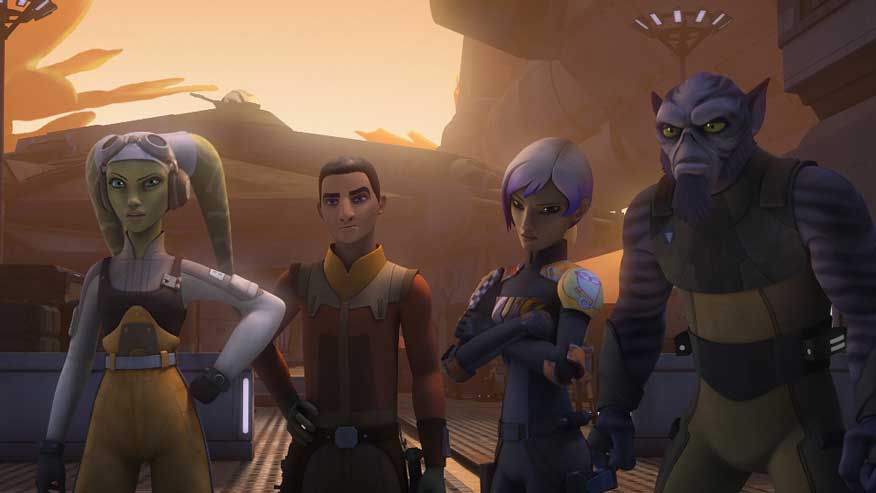 We are big fan of the animated series "Star Wars Rebels" which returns this Saturday (8:30-9:30 p.m. EDT) on DisneyXD. The new season will introduces new characters, including Grand Admiral Thrawn and Bendu, during the season three one-hour premiere event — "Steps into Shadow."
Here's a summary of the first show:
Having established a secret base on Atollon, the Ghost crew, now led by a more powerful Ezra, strengthens the rebel fleet by acquiring new resources and recruits eager to stand against the Empire. However, the Imperial efforts to eliminate the rebellion are now being led by the coldly analytical Grand Admiral Thrawn, whose strategic, tactical and cultural insights make him a threat unlike any they have faced before. In season three, Ezra and Sabine take on new roles and challenges as the rebels prepare for their biggest mission yet – a direct assault on the Empire.
Meet Bendu
Fans of the BBC series Dr. Who may recognize the voice of Bendu as belonging to Tom Baker. According to Baker, Bendu is something of a 'life force.' He's something we haven't seen in Star Wars up until now. Neither the dark side or the light, he's something greater.
Face to Face with Thrawn
I'm really looking forward to seeing what this version of Thrawn brings to the series. The expanded universe version was pretty bad-ass.
Will you be tuning in to season 4 of Star Wars Rebels? Who is your favorite character? What di you think will happen to Ezra and Kanan? There are a lot of questions to be answered.