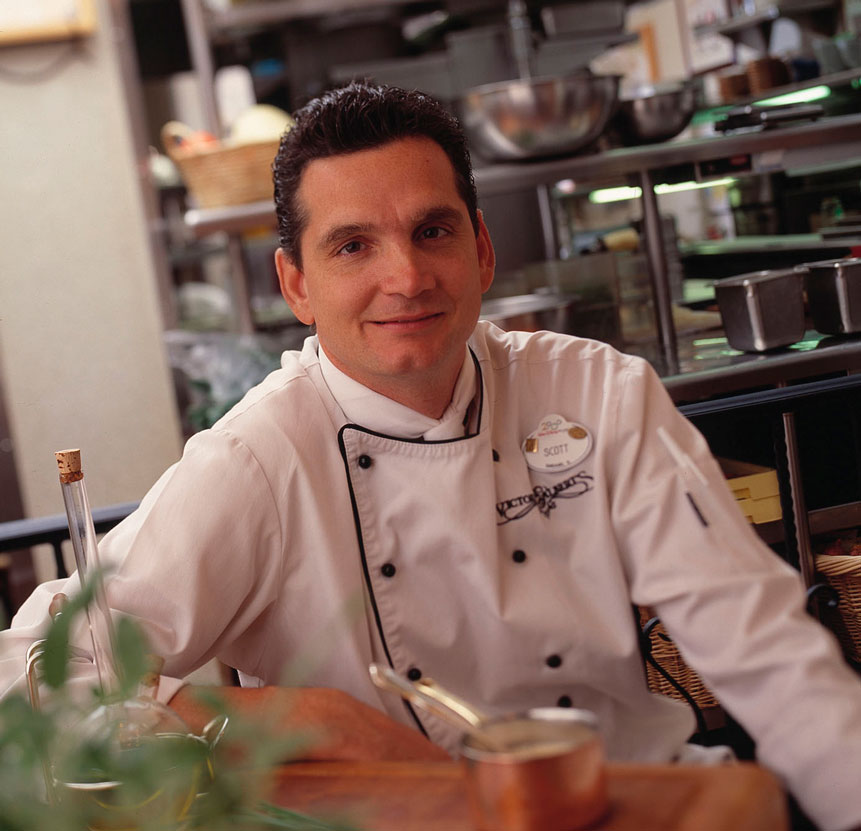 Victoria & Albert's restaurant at Disney's Grand Floridian Resort & Spa is regarded as one of the top dining experiences in the world. A large part of that is because of the culinary and hospitality vision of Chef Scott Hunnel who has been guiding the establishment for more than 20 years. Local food reviewer and blogger Scott Joseph has learned that Chef Hunnel has now been given the additional responsibilities of executive chef of the Grand Floridian Resort & Spa.
Chef Hunnel started his career as a dishwasher in a Chicago restaurant. He graduated from Chicago's Joliet Culinary Program, and has been with Disney since 1989. Hunnel came to Victoria and Albert's in 1995 from the now closed Ariel's restaurant at the Beach Club. At V&A, Hunnel and his culinary team prepare modern American cuisine with the best-of-the-best from around the world.
The new position as Executive Chef puts Hunnel over all the hotel's restaurants, which include Citricos, Narcoossee's, and the Grand Floridian Cafe. He will continue to be involved in Victoria & Albert's, but it does sound like the search is on for a new chef de cuisine.
As mentioned by Jospeh, Disney has been moving around a few chefs recently. The California Grill lost its visionary chef Brian Piasecki and Citricos lost Phillip Ponticelli. Both moved to other positions with Disney. Flying Fish Cafe is currently undergoing a large renovation and when it returns it will have a new chef as Tim Keating has left the Disney company.
Which begs the question. Where does Disney find not just one new chef de cuisine, but a small handful of them to lead Walt Disney World's top culinary experiences. If it can find candidates within, that's great. It takes a certain type of chef who is willing to work within Disney's corporate structure. Having existing experience with that is always a plus. But this is also a possibility to bring new vision into the company. It will be interesting to see what they do.