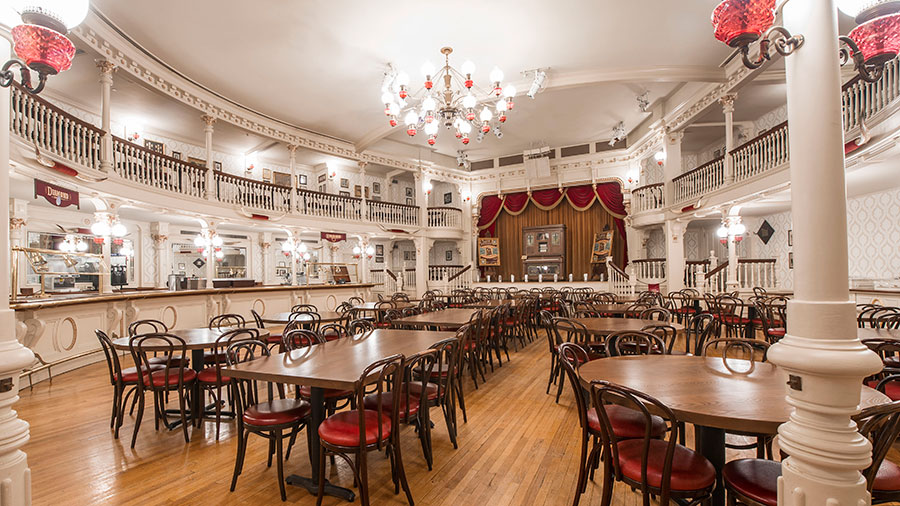 Next time you're hungry at the Magic Kingdom, you have a new wonderfully msit-down restaurant option to enjoy. The Diamond Horseshoe will begin serving lunch and dinner as of March 13th. The meals will be served family style all-you-care-to-eat.
The opening course is the Frontier Salad, which combines mixed greens, tomatoes, roasted corn, cornbread croutons, and chipotle-ranch dressing. You'll also receive cornbread for the table.
For the main course, choose from BBQ pulled turkey open sandwich, spit-roasted ham with country beans, or stewed beef and mashed potatoes. You'll also get a side of healthy veggies.
For dessert, you can choose from an apple tart or the Campfire Brownie. Soft drinks, tea, coffee, and milk are included with the saloon feast. Cost is $33 plus tax for adults. $19 for children ages 3-9.
It's not 100% clear, but it looks like the all-you-care-to-eat part only applies to drinks, salad, and cornbread. Main fixins and desserts are limited to one each.
This is not the first time The Diamond Horseshoe has been a table service location. During holiday periods the location has often served as an overflow for Liberty Tree Tavern. Usually with a similar, if slightly smaller menu. The two locations share a kitchen (and now you can add the Skipper Canteen to that kitchen).
The location has also been used as a reserve location for busy days in the park. Often they'd serve a roast beef, ham, or carved turkey sandwiches. Lately they had been trying some new options. I think I would have preferred to see a more affordable quick service option here instead.
Of course, The Diamond Horseshoe used to have a show as well. There are no signs they're planning to bring that back. But it would certainly be nice to see the location used to its full capabilities. It would also make the asking price a little easier to swallow.
Reservations are available from March 13-May 30. Call 407-WDW-DINE.