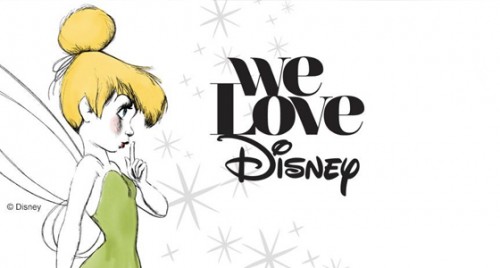 Disney and Verve Music Group have released a compilation album titled We Love Disney. We Love Disney brings together some of the most talented names in music to perform their own renditions of classic Disney songs. This will be the third Disney compilation from Walt Disney Records and Universal Music Group. The first album was released in France in 2013, and the second album was released in Australia last year. After the international success of those two albums, Universal and Disney have teamed up again to bring We Love Disney to the United States.
We Love Disney features names like Jessie J, Tori Kelly, Ariana Grande and Jason Derulo. A wide variety of genres are included such as pop, country, R&B, rock, and more. This album has some of our favorite Disney songs that are recorded in ways that are unique to each individual artist. You can check out the full tracklist and a video of Tori Kelly's beautiful rendition of "Colors of the Wind" below.
Here is the full tracklist:
1. "Friend Like Me" from "Aladdin" – Ne-Yo
2. "Part of Your World" from "The Little Mermaid" – Jessie J
3. "Can You Feel the Love Tonight/Nants' Ingonyama" from "The Lion King" – Jason Derul
4. "The Rainbow Connection" from "The Muppets Movie" – Gwen Stefani
5. "Zero to Hero" from "Hercules" – Ariana Grande
6. "In a World of My Own/Very Good Advice" from "Alice in Wonderland" – Jhené Aiko
7. "I Wan'na Be Like You (The Monkey Song)" from "The Jungle Book" – Fall Out Boy
8. "Colors of the Wind" from "Pocahontas" – Tori Kelly
9. "Spoonful of Sugar" from "Mary Poppins" – Kacey Musgraves
10. "Ev'rybody Wants to Be a Cat" from "The Aristocats" – Charles Perry
11. "A Dream Is a Wish Your Heart Makes" from "Cinderella" – Jessie Ware
12. "Let It Go" from "Frozen" – Rascal Flatts & Lucy Hale
13. "It's a Small World" – "We Love Disney" artists
14. "It's Not Easy Being Green" from "The Muppet Show" – Brenna Whitaker
15. "A Whole New World" from "Aladdin" – Yuna
Listen to Tori Kelly singing "Colors of the Wind" from the animated classic Pocahontas
We Love Disney is now available in stores and online at Amazon, iTunes and the Google Play Store. I love that there's a vinyl edition too.
Do you see your favorite Disney song on the tracklist? Which songs are you looking forward to hearing the most?