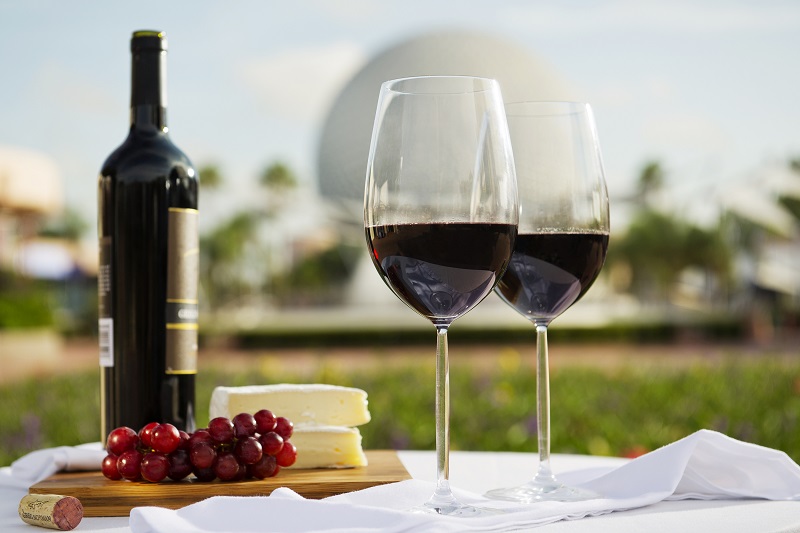 We're less than a week away from the start of the most delicious time of the year at Walt Disney World. The 20th annual EPCOT International Food & Wine Festival runs from September 25-November 16th and features both local and global tasty trets and drinks along with live entertainment that only Disney can deliver.
As we covered in our festival preview, the 53-day event will feature Future World marketplaces for the first time. These will feature a special tie-in with ABC's daytime food-focused series "The Chew."
Here are 20 fun facts about the 20th food & wine festival:
Now 53 days long, the Epcot International Food & Wine Festival began in 1996 with a first run of 30 days
At the 2015 festival, a record 30 global marketplaces will include the new Sustainable Chew, Chew Lab and Artistry of Wine & Cheese marketplaces
Producers of ABC's "The Chew" will tape 5 episodes of the show before 5 festival guest audiences numbering in the hundreds for each show
The 20th festival will feature 32 new marketplace dishes and 75 new cocktails, beers, wines and ciders
In 1998, 200 domestic and international wines were poured at the festival. This year, at marketplaces and premium events, more than 300 domestic and international wines will be offered
More than 60 wineries and more than 40 breweries from around the world, including local craft beer operations, will be represented at festival marketplaces
The 20th Epcot International Food & Wine Festival Cookbook by Pam Brandon and the Disney Chefs features 75 recipes from the global marketplaces that span the entire 20 years of the festival.
3 Rockin' Burger Block Parties and 5 Party for the Senses grand tastings will take place at World Showplace during the festival run. In all, the festival will feature 193 premium events ranging from Signature Dinners and Food & Wine Pairings to Beverage Boot Camps and Festival Events in World Showcase pavilions
Guest chefs and Disney chefs numbering 250 will present culinary demonstrations and will cook for festival events
Celebrity chefs and visiting culinarians from 6 countries and 26 U.S. states will participate in the festival at culinary demos, book signings, and special tasting events and dinners
Nearly 400 culinary demos, beverage and mixology seminars will take place during the 53-day festival
During the new Remy's Ratatouille Hide & Squeak festival scavenger hunt, guests can help Remy scour the park for the ingredients to make his signature dish, ratatouille. Along the way, they'll find 12 Remy statuettes hidden in each of 11 countries of the World Showcase and at the African Outpost location. Guests can redeem the 12 stickers they've collected for one of 6 special pins at Port of Entry
159 Eat to the Beat concerts will be performed; 4 musical acts will appear for the first time at this year's festival featuring entertainment ranging from rock and soul to funk and blues
The Marketplace Discovery Passport was introduced in 2010 for the 15th annual festival; today, the free passport will feature pages with all 30 festival marketplaces that guests can have stamped during their dine-around-the-world culinary adventure
More than 1,200 fireworks will explode each night over World Showcase Lagoon in IllumiNations: Reflections of Earth nightime spectacular
Chase is the festival's presenting sponsor for the 4th year; its Chase Lounge at American Adventure Parlor features guest amenities that include complimentary beverages and comfy furniture where guests can chill out and recharge
The Ocean Spray Cranberry Bog, back for a fourth year, is filled with 900 pounds of the tart red fruit and is accessible to cast members who wear waterproof waders
100,000-plus desserts, including the Chocolate Cherry Explosion and Strawberry Basil Champagne "Toast" at Desserts & Champagne Marketplace, are expected to be served
In 1997, during the festival's second year, festival planners introduced the first Grand Tasting culinary extravaganza; in 2002, the event was renamed and moved to World Showplace as Party for the Senses, now featuring up to 50 food and beverage stations and breathtaking entertainment by Cirque du Soleil's "La Nouba" performers
At the new Artistry of Wine & Cheese, each keg of premium wine on tap will hold the equivalent of 26 wine bottles, eliminating bottle, cork, cardboard and paper waste from labels. Recycling and repurposing of glass bottles and corks from other marketplace locations will be part of the 20th-year festival story
Finally, Walt Disney World Annual Passholders who complete a special three-day challenge are eligible to pick up a special wine glass. Supplies are limited, so you'll probably want to go on day one to make sure you get in on the deal. Check out the booth in the festival center for details.
Will you be attending in 2015? If so, what are you most looking forward to?