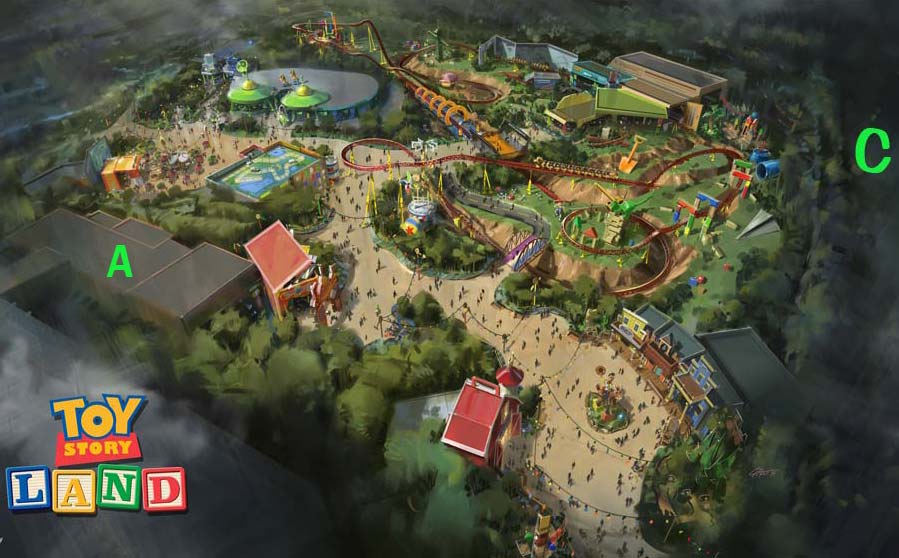 I've seen a couple other sites attempt a map trying to figure out where each of the various buildings from the concept art will be located in relation to existing buildings. But I haven't seen one that I think accurately reflects what is going where. So, I thought, why not give it a shot. I'm no architect, but I'm okay with photoshop.
In drawing this layout, I've used a couple givens. The area I've chosen works out to 11-acres (see map below), which is the size given for the expansion by Disney executives at D23 Expo. Additionally, I'm assuming they're keeping the backstage multi-story parking garage (with parking being at a premium already, I can't see them getting rid of it) or Letter 'C' on the color coded map below. Also, I'm using the concept art as a guide and assuming that the existing showbuilding for Toy Story Midway mania is the building labeled "A" even though it appears to be shaped a little different than the exiting attraction building.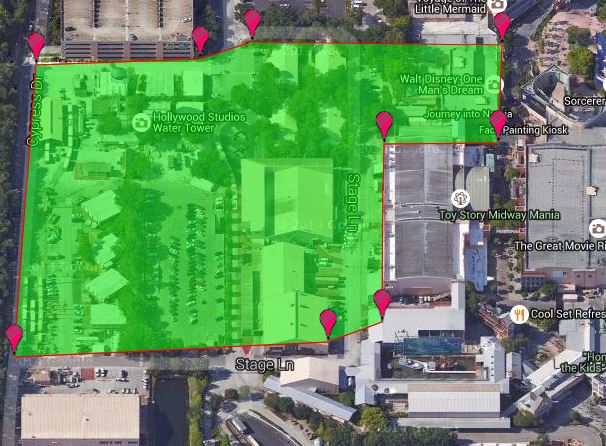 The above area is just a little over 11-acres and includes a bevy of backstage buildings that will shortly be destroyed or relocated. I've heard that some prep-work on the deconstruction has begun already.
The perspective of the concept art compresses the distances in the back (upper left) and lengthens them in the front (lower right). So it's hard to judge the exact layout.
Here's my guess at where things will be located.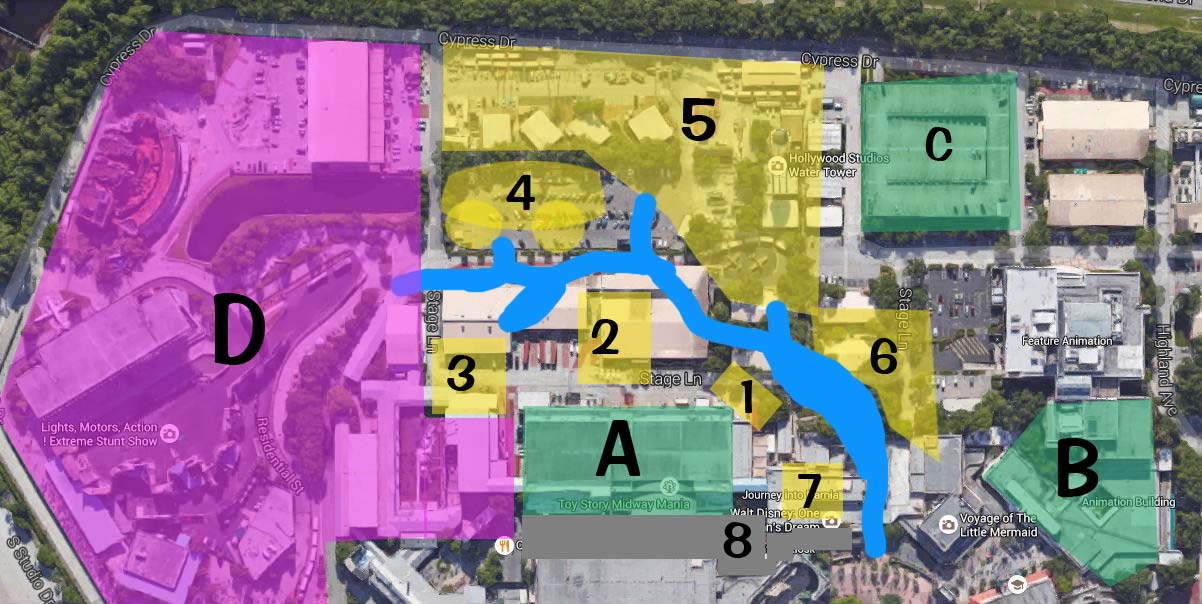 I admit it's a rough guess, but taking what I believe to be the givens we can infer from the concept art, it's my best guess.
A – This is the showbuilding for Toy Story Midway Mania (TSMM). It is getting a third track, so the building is bigger than we see it now.
B – This is the future home of Star Wars: Launch Bay, which will be the movie and expansion preview center.
C – That cast member parking lot I don't see as going anywhere.
1 – The new entrance queue for TSMM. The entrance to TSMM will be relocated so as to be part of the new Toy Story Land. A hallway will connect the new queue with the old queue roughly where Mr. Potato head is now. He will have to be relocated.
2 – Likely new restrooms and a store that is also the exit to the third track of TSMM
3 – A food location. Looks like a lunch box, so it could be any theme.
4 – Buzz Lightyear twin spinners
5 – The Slinky Dog Coaster (it's a long winding coaster so it takes up a lot of space)
6 – Western set facade, likely retail space or maybe a meet and greet
7 – A Playskool Barn (not Al's toy barn, since all these locations are toys in Andy's backyard) and also a store and exit from TSMM for the two original tracks.
8 – The former Pixar Place / Pixar Studios. This will become backstage area for the park
D – Once Lights, Motors, Action closes, this area is pretty much ripe for expansion as well. It's rumored to be a new take on Radiator Springs from DCA. It really could be anything (rumors include Muppet Land, Marvel, or ___ fill in the blank yourself).
As far as I know, the final blueprints for Toy Story Land haven't leaked yet, I'm curious how close I came with my guess. What do you think?