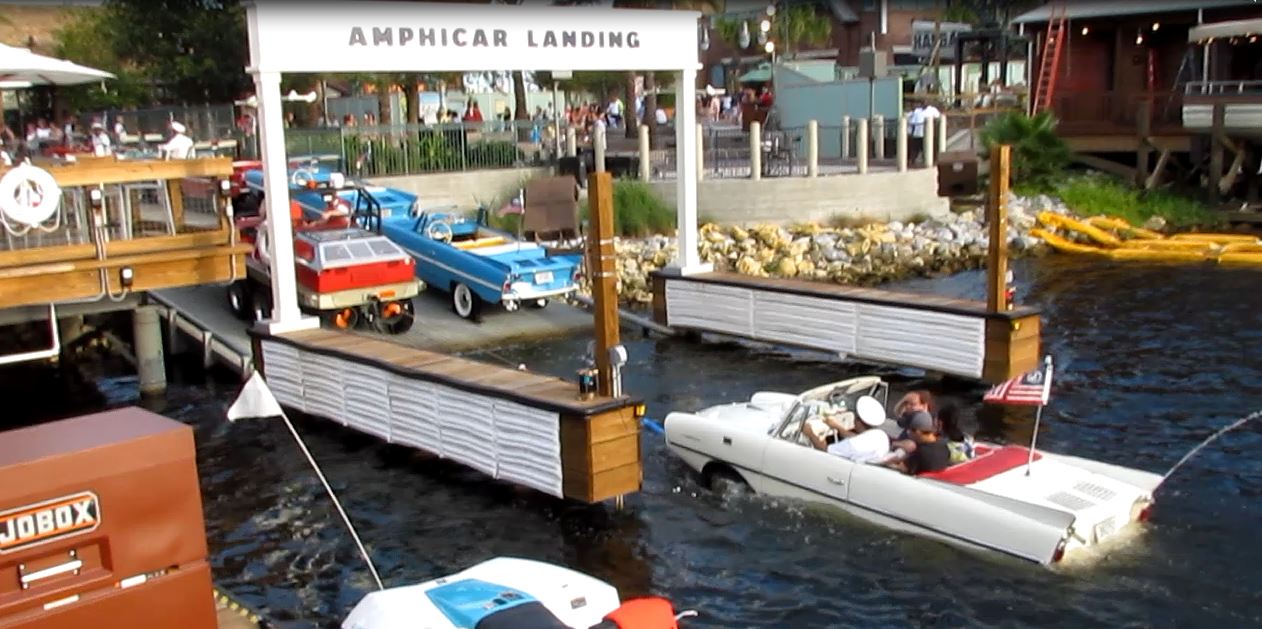 Last Friday evening, just before sunset, I was exploring Downtown Disney in The Landing area of Disney Springs when I saw something a little out of place. An Amphicar had stalled out and was being held for rescue by a special tow vehicle. I caught it on video and Periscope.
Amphicars are rare amphibious vehicles that drive from dry land right into the water. A 20-minute ride around Village lake in one of The Boathouse's amphicars can be purchased for $125 for up to 3 adults (and one small child).
Amphicars were built in the 1960s and only 4000 were ever produced. Even though the owner of The Boathouse has made an effort to restore these perfectly, it is to be expected that they would breakdown every now and then. This is the first time I've seen one stranded.
When I approached, I noticed that cast members had to hold the amphicar away from the dock with long oars. Bumping into the dock could cause some significant damage to the rare $60,000 vehicle. Everybody was calm about the matter and it was clear cast members had been drilled on this in training.
I periscoped the whole thing and took some video with my camera. Here's the big rescue moment followed by my full un-edited periscope (sorry for the vertical frame, but that's how Periscope works)
In the end the amphicar was safely towed back to the launch ramp. While the family may have been inconvenienced by the delay, they were rewarded with a trip in the 40-foot Italian yacht. So not too shabby in the guest recovery department.
Have you had a ride in an Amphicar yet? Do you want to?