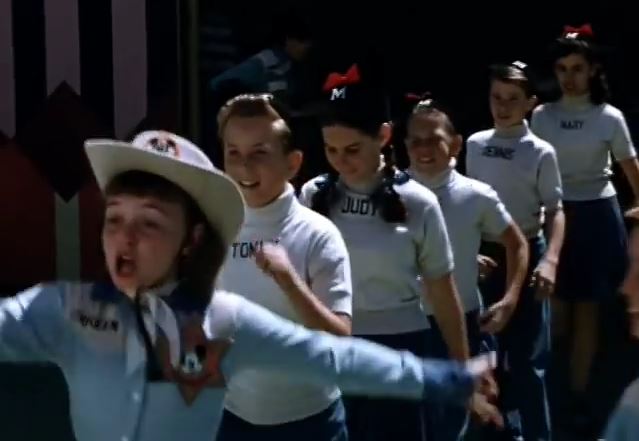 It's a little remembered fact, but Disneyland and the Mickey Mouse Club. While the first TV episode of the Mickey Mouse Club didn't air until October of 1955, the Mouseketeers were featured in the opening day ceremonies at Disneyland.
Here's a bit of rare color footage from their portion of opening day:
You'll be able to see members of the original Mickey Mouse Club at this year's D23 Expo. The "Celebrating Walt Disney's Mickey Mouse Club – 60 Magical yEARS" panel will be hosted by author Lorraine Santoli on Sunday of the event.
Among the invited Mouseketeers are Sherry Alberoni, Sharon Baird, Bobby Burgess, Tommy Cole, Darlene Gillepspie, Cubby O'Brien, and Doreen Tracey. Also on the panel are Spin and Marty (aka Tim Considine and David Stollery). Expect lots of great stories and a one-of-a-kind performance filled with memories, music, and magic.
If retro-Disney is your thing, you won't want to miss Charles Phoenix's panel "Big Retro Disneyland Slide Show!" on Friday. Phoenix has amassed a unique collection of images and will share them with you. Expect ot see early color photos of Main Street USA, Adventureland, Fantasyland, Frontierland, and Tomorrowland, plus many of the park's expired attractions.
Other panels to see include
Disneyland Home Movies with footage from the week before opening and opening day on Friday.
A Goofy Movie 20th Anniversar Reunion on Friday
The Making of American Experience: Walt Disney. Go behind the scenes on the much anticipated documentary of Walt Disney's life.
Tickets for D23 Expo are still available at D23Expo.com