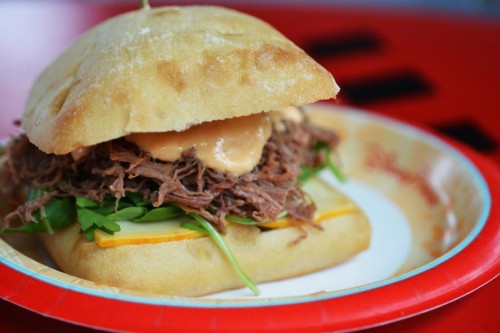 I've lived in Central Florida for 11 years now and I can count the number of times I've eaten at the Studio Catering Company on one finger. The panini and wrap heavy menu just doesn't appeal to me. It looks like that's about to change.
A new menu will roll out soon and it features at least four new treats.
A braised pulled brisket sandwich with Munster cheese, arugula, and a creamy horseradish is on my list to order on my next visit.
A deli sandwich will feature ham, salami, pepperoni, Provolone cheese, and creamy pesto, pepper relish, and Balsamic glaze to finish it off.
Vegetarians will find a new vegetable wrap with garlic herb spread
And a Soup and Panini option joins the menu with Turkey, Swiss, Provolone, and honey mustard pressed and served hot. The soup is tomato basil.
Side options now include house-made chips.
Other DHS locations have also been working on plussing their items. Min and Bill's Dockside Diner has gone the gourmet macaroni and cheese route that's so popular in the Magic Kingdom. And Fairfax Fare has a new barbecued pulled pork salad.
Will any of these new entrees entice you to order?
Thanks to the Disney Parks blog for sharing these images.