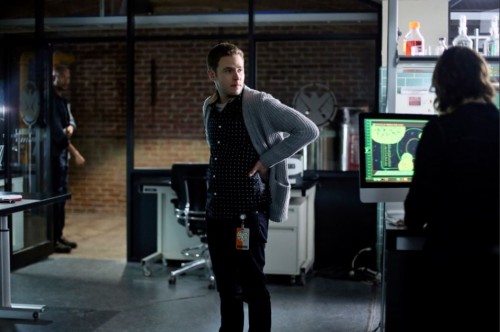 Marvel's Agents of S.H.I.E.L.D. Season 2, Ep. 14 is titled "Love in the Time of Hydra." The plot synopsis tells us that that Coulson and his team are still reeling from a shocking revelation that leaves the team, not to mention Skye's arms) fractured as they must decide what to do with one of their own. Meanwhile, Bobbi and Mack reveal their true allegiance to Hunter, while elsewhere, Ward and Agent 33 embark on a personal mission.
I can't wait to see Edward James Olmos, who is playing the Director of a completely separate SHIELD organization. Other guest stars include: Adrian Pasdar as Brigadier General Glenn Talbot, Christine Adams as Agent Weaver, Kirk Achevedo as Agent Calderon, Mark Allan Stewart as Agent Oliver, Simon Kassianides as Sunil Bakshi, Raquel Gardner as Carla Talbot, Maya Stojan as Agent 33, Landall Goolsby as Selwyn, Gigi Bermingham as Rhonda, Parisa Fakhri as Lieutenant Decker, and Meredith Bishop as Officer Anderson.
I'm excited to see where this goes as we lead up to the May 1st premiere of Marvel's Avengers: Age of Ultron. I hear there may be some cross-over between the TV show and the movie. Just as how Captain America: Winter Soldier made a huge difference.
Marvel's Agents of S.H.I.E.L.D. airs this Tuesday at 9:00 PM ET on ABC!