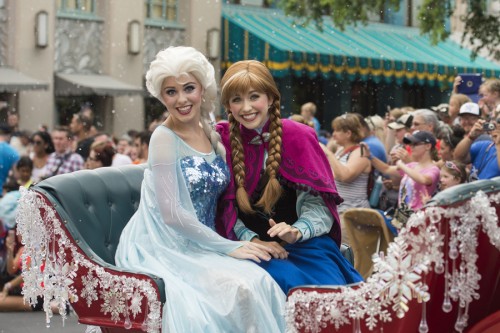 It will be the coolest summer ever at Disney's Hollywood Studios as the park returns the popular 'Frozen Fun' entertainment events from last summer. They also announced that the "For the First Time in Forever: A Frozen Sing-Along Celebration" will move from the Premier Theater near the streets of America to the newly renamed Hyperion Theater (formerly Superstar Television Theater home to American Idol Experience).
The Hyperion name has a long history with the Walt Disney Company. After seeing the first hints of success in Los Angeles, Walt moved his studio from a storefront to a larger structure on Hyperion Avenue. They operated there from 1926 to 1939 and produced many animated shorts including "Steamboat willie" and "Three Little Pigs." It was also where the first full length animated feature was produced "Snow White and the Seven Dwarfs." Sadly the old studio building is long gone.
There is also a Hyperion Theater at Disney California Adventure, where mini-theatrical productions are held.
More details on all the Frozen entertainment coming to Disney's Hollywood Studios below the jump
Frozen Royal Welcome – Twice each day, Anna, Elsa and Kristoff take part in a cavalcade accompanied by the Royal Arendelle Flag Corps and a flurry of skaters, skiiers and ice cutters – along with lovable snowman, Olaf. Anna leads the procession in a beautiful horse-drawn sleigh, with Elsa gliding by on a stunning, ice palace float. The entire procession pauses twice along the route in tribute to these visitors from Arendelle, as everyone is invited to join in singing "Let It Go!"
For the First Time in Forever: A "Frozen" Sing-Along Celebration – Just in time for this year's "Frozen" Summer Fun LIVE event, this popular show moves into the beautiful Hyperion Theater, located right in the heart of Disney's Hollywood Studios. The Royal Historians of Arendelle host a fun and comedic retelling of the unique story of their kingdom, filled with delightful, sing-along moments from "Frozen," plus all-new in-theater effects and special appearances by Anna, Elsa and Kristoff.
Olaf's Summer Cool Down – Several times each day,  Olaf and some of his friends come to the Event Stage to have a little fun with everyone "In Summer." And as temperatures heat up, Olaf happily shares a burst from his personal snow cloud to cool things off.
"Coolest Summer Ever" Dance Party – Once the sun goes down, a dance party takes over the area around the Event Stage, with DJ Chill and some of your favorite Disney characters. Using a special event hashtag, you can share song requests and photos over social media, to be featured onscreen during the party.
"Frozen" Fireworks – As the night comes to a close, Anna, Elsa, Kristoff and Olaf come together at the Event Stage for a grand finale to the day's festivities, kicking off an awe-inspiring fireworks display set to the glorious music of "Frozen" and, of course, a flurry of snow!
Not returning is the Ice rink., but the fireworks show is very good. "Frozen" Summer Fun LIVE starts June 17 and continues daily through September 7 at Disney's Hollywood Studios.