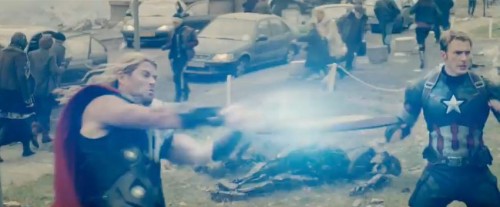 The previous Avengers: Age of Ultron trailers have been pretty good, but the new trailer, just a TV spot really, is the awesomest. Yeah, I'm geeking out.
Yes, there's probably been enough footage revealed already, but the cool little moments in this trailer make it extra special. How about when Thor hits Captain America's shield with his hammer and destroys about a dozen Ultron minions? Yeah, pretty cool.
Below the jump, we have director Joss Whedon talking about some of the casting in The Avengers:
Notice, he agrees when she asks if there are other Marvel characters still to be revealed when you see the movie.
May 1st is not that far away now. Can you wait?