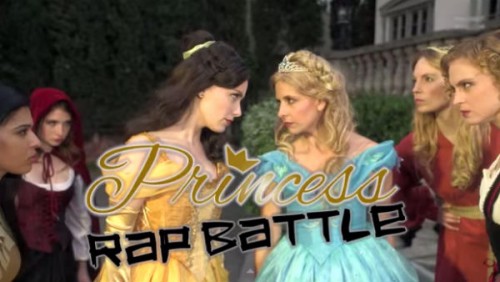 Have you ever wondered what would happen if two Disney princesses were to settle a problem with each other with an epic rap battle?
Well, somebody did, and created this amusing video featuring Cinderella and Belle throwing down words.
Cinderella is played by actress Sarah Michelle Gellar, best known as Buffy Summers in the Buffy the Vampire Slayer series. She recently joined Star Wars Rebels for season 2, opposite her husband Freddie Prinze Jr.
Belle is played by YouTube sensation Whitney Avalon, who also is the mastermind behind this Princess rap battle series. Yup, series. This is the fourth video in the battles.
There are some cute lyrics in this parody. Cinderella states, "I deserve all the credit for the foot fetish craze, I've got itty bitty kicks but legs for days."
Belle retorts, "I'm the perfect combination of brains and booty."
Then it gets ugly with Cindy snarling, "You've got teapots for friends and I think your man's shedding."
Ouch!
So check out Cinderella vs. Belle (and their guest backups) in Princess Rap Battle #4, and let us know what you think of it. Just a warning…some lyrics are not very Disney-like.