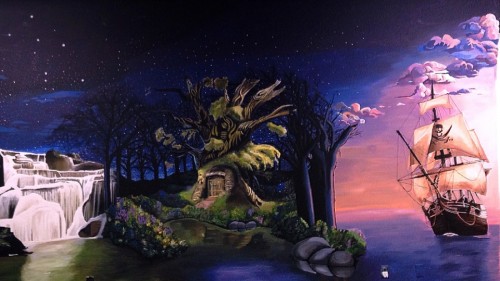 One of the great things Disney does is license a junior production of a Peter Pan stage musical. It's based on both J.M. Barrie's original enchanting play and Disney's classic film. Perfect for community theater or school performances, "Peter Pan" is often a child's first exposure to stagecraft.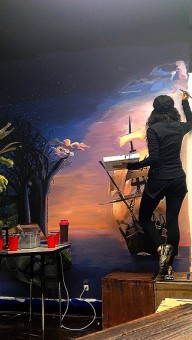 It's also a great chance for the community to get involved in the production too. Take this fantastically painted mural for a new production. Elizabeth Londen had a small business doing commissioned paintings, but when she heard there was a production of a Disney play at the local middle school she volunteered her services.
"It was Peter Pan after all, you do not NOT paint a mural for a Disney production when you get a chance," said Londen.
The director asked her to paint "first a waterfall for the mermaid lagoon, then forest, the Hangman's tree, and a pirate ship – also, could you make it look like an island with water in front of it?" and to make it 16 feet tall by 24 feet wide.
It took her four weeks spending at least two days a week sketching and then painting the background mural. She started with a sharpie sketching out the mural. Often she had to stack blocks and chairs to reach the top of the mural to draw and paint. The result is one of the better paint backdrops I've ever seen for a Peter Pan production.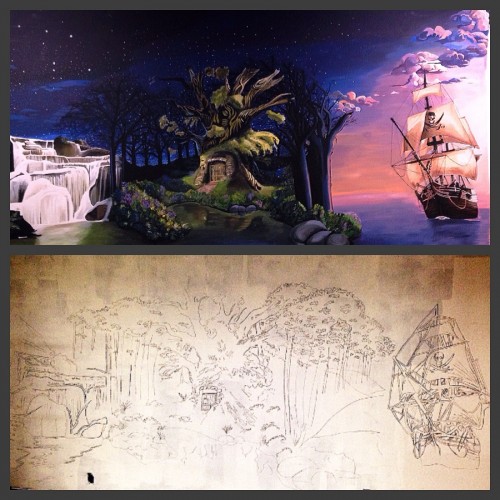 Londen hopes to have her dream job painting murals for Disney one day. In the meantime, check out her website for more of her art.