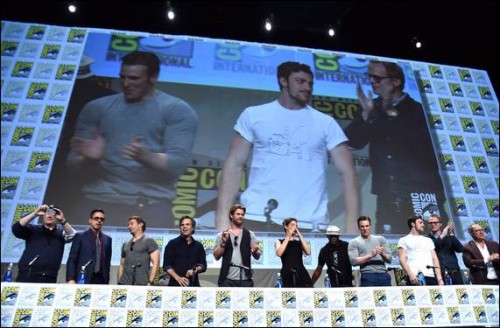 Loose lips sink ships. That's what they said during World War II reminding dock workers not to talk about the comings and goings of ships involved in the war effort. Yesterday in a Q&A session on Facebook, Guardians of the Galaxy director James Gunn may have sunk Marvel's plans for San Diego Comic Con. Especially, if that plan was to skip SDCC all together. At least that's the word that Gunn let slip during his chat.
If it seems odd that Marvel might not bring the who Marvel Studios dog and pony show to SDCC, which has become one of Hollywood's most important ways to reach super hero fans, you're probably right.
However, Disney has its own competing event just down the street in Anaheim one month later – D23. and will probably have a large presence from Marvel Studios and Star Wars.
As it turns out, both Marvel films in 2015 will have been released by D23 in August. Avengers: Age of Ultron opens May 1st and Ant-Man on July 17. SDCC takes place in July 9-12. Not enough time to build any momentum for either. So it doesn't really make sense for Marvel Studios to roll out the big guns for SDCC this year. By D23 it will be time to start promoting what comes next.
Do you support Marvel Studios 'skipping' SDCC this year?