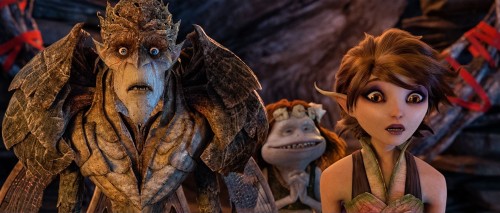 Disney kicks off it's 2015 movie slate with a release of Lucasfilm's "Strange Magic" via it's Touchstone Pictures label. You know that label Disney keeps around for movies that just don't quite fit the mold for the 'Disney' brand. Because of that, I've been cautious about the film's potential.
That said, three clips from the film that were just released have left me a bit more confident in the animated musical from Lucasfilm Animation Singapore and, believe it or not, actually looking forward to seeing it.
First up is a clip called "ELf-Sized Serenade" and it gives an idea of how the modern music will be worked into the fairy-tale setting. Here Sunny (Elijah Kelley) and Dawn (Meredith Anne Bull) sing to each other in a musical moment from "Strange Magic":
Another Strangely Magical music moment features "The Duel Duet" where Marianne (Evan Rachel Wood) and The Bog King (Alan Cumming) face-off in a duel. It's obvious the film is very light-hearded, even in its darker moments.
Finally, there's a short clip from the film featuring the Sugar Plum Fairy (Kristin Chenoweth) and Sunny having a moment.
Looks like this will be a fun one for the tots and pre-teens. The adults should like the the music and humor enough to be entertained as well. There's also a lot of great voice talent involved. We will have a full review later this week. So stay tooned.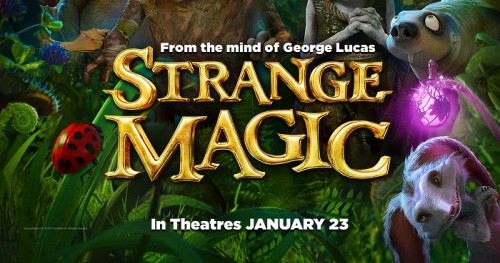 See the animated film, from the mind of George Lucas, in theaters January 23!