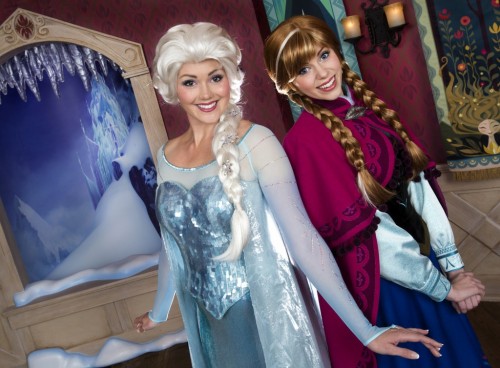 For a limited time Southern California residents who want to get in on the "Frozen Fun" at Disneyland and Disney California Adventure can save with a discounted 2-day ticket for $139 or a 3-day tixket for $169. Upgrades to include park hopping are also available.
Admission is valid through May 21, 2015 with blocked out dates of March 20-APril 4, 2015. You must live within ZIP codes 90000-93599 or in Northern Baja within 21000-22999 and proof of residency is required to enter the parks. Tickets can be purchased at the park, disney stores, and at some Vons grocery stores in the area.
'Frozen Fun' at Disney California Adventure Park
"Frozen Fun" in Disney California Adventure, a new limited-time offering, includes "Anna & Elsa's Royal Welcome," an elegant location inside the Disney Animation building for Anna and Elsa to receive visitors. Guests may reserve a time to meet the charming sisters by utilizing a Return Time ticket, available just outside the Animation building. Elsewhere in the Disney Animation building, guests at the Animation Academy will be asked "Do You Want to Draw a Snowman?" – with an Olaf drawing experience.
Another element of "Frozen Fun" is "For the First Time in Forever – A Frozen Sing-Along Celebration," which transforms the Muppet*Vision 3D Theatre into the Crown Jewel Theatre of Arendelle. When Anna, Elsa and Kristoff take part in a comedic retelling of their story, musical sequences (and lyrics) are shown on the theatre's large screen, and guests are invited to sing along.
Next door, in Stage 17, "Olaf's Snow Fest" creates a winter scene where guests may meet and share warm hugs with Olaf. A giant play area with real snow encourages guests of all ages to build snow creations and zip down a snow slide. (Note: "Olaf's Snow Fest" concludes April 30, 2015.)
After dark, just outside the entrance to "Olaf's Show Fest," the area transforms into "Freeze the Night! A Family Dance Party." Guests will "chill out" in an interactive party that celebrates all things "Frozen" with exciting music, games, photo opportunities, drinks and snacks, ice sculptors and plenty of super-cool nighttime energy. Guests also may look for a friendly likeness of the "Frozen" character Marshmallow, posing for photos.
(photo courtesy Disney. Paul Hiffmeyer photographer)