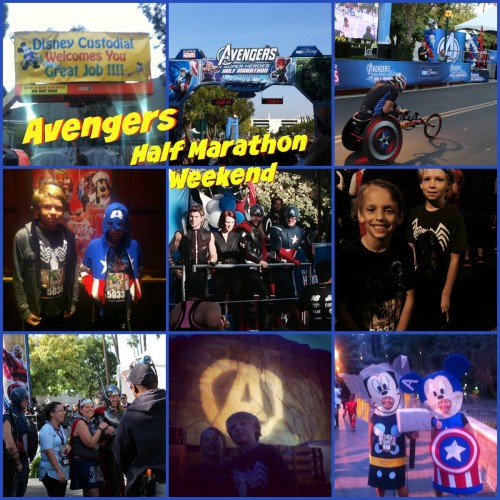 My family and I recently participated in the inaugural Avengers Half Marathon Weekend at the Disneyland Resort as guests of RunDisney, and it was just as super as you like your Marvel adventures to be. Yes, it was that powerful.
We ran the Avengers 5K (or about half the distance we normally walk on any given day in the parks, but with less churros) due to health issues (even that was pushing it for me) and age restrictions regarding kids in the longer races, and it was perfect for us. The race started in the street below Downtown Disney, twisted through the backstage area of Disney California Adventure and brought us into the park via the archway to Cars Land just as the sun was rising over Radiator Springs. There was holiday music playing and Mater was on the side of the course for seasonal photo ops, which thinned the crowd quite a bit. Many of the Avengers were also on the route and lots of runners decided that a photo with Black Widow and Captain America was better than setting any land speed records (and they were right).
We were funneled out of DCA and across the esplanade into Disneyland, wrapped through the park, and finished through the backstage area there as well. We actually saw a lot more backstage than I would have thought Disney comfortable with, but it was cool, and the third shift was out cheering us on with true cast member enthusiasm. The last leg took us through Downtown Disney and straight on to the finish line.
The weekend also offered a pasta dinner (carbs!), an expo (open to the public), kid races, a 10K, and the half marathon, which was downright inspiring. There is something wonderful about watching people push themselves and meet the goals that they have set. The finish line was full of smiles, spandex, tears, cheers, and in the case of the last runner, empathy and compassion—she had hurt herself along the course and finished the race leaning heavily upon the shoulder of a stranger. The crowd went wild.
Our family is new to running, but we like it, and I can't imagine a better way to get healthy than running through the Disney Parks. We'll do it again, but this time with (the) Force!
Have you participated in any of the RunDisney races?