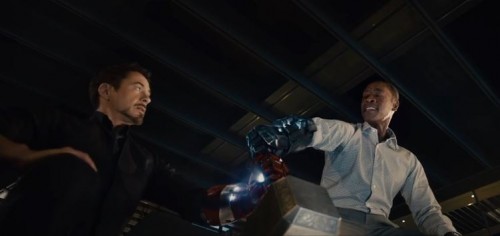 Yesterday, Marvel staked claim to the super hero box office for the next five years with their Phase Three schedule release. Last night, they topped that off with a special clip from Avengers: Age of Ultron during Marvel's Agents of S.H.I.E.L.D. on ABC.
That was supposed to be just the trailer for the movie, but since that was leaked last week, Marvel had already released it. Instead, get a clip and a trailer.
The clip begins with our Avengers, now including James Rhodes (Iron Patriot) and Maria Hill, gathered in Tony Stark's NYC loft, now the HQ for the Avengers, having a friendly game of who can lift Thor's hammer – Mjolnir.
I liked the look on Thor's face when Captain America was able to move it slightly.
If you were at SDCC you saw this scene and a bit more. Which starts to get into spoiler territory, so I won't go into that here.
Marvel's Avengers: Age of Ultron will hit theaters everywhere on May 1st, 2015!