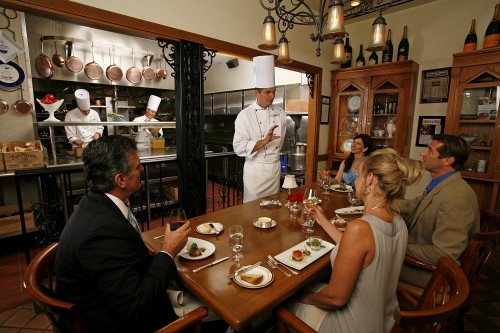 Those looking for magical dining experiences while on vacation at Walt Disney World have many tasty choices. But one restaurant consistently brings home top honors year after year.
Victoria & Albert's at Disney's Grand Floridian Resort & Spa recently added yet another feather in its cap when it was named as one of the Top 5 restaurants in the United States in TripAdvisor's 2014 Travelers' Choice awards. The Walt Disney World Resort restaurant is the only Florida restaurant on the illustrious list. The awards honor top travel spots worldwide based on millions of reviews and opinions from TripAdvisor travelers.
Victoria & Albert's also is a AAA Five-Diamond Award winner, one of just two in Florida. Under the helm of Chef Scott Hunnel, maître d hotel Israel Perez and Pastry Chef Erich Herbitschek, the restaurant features some of the very best seasonal ingredients from local markets, as well as from around the world. Congratulations to everyone on staff at the restaurant.
I hear the experience of dining at the Chef's Table, if you can get a reservation, is something you will never forget. I still remember our honeymoon dinner in the main dining room. It truly was a magical dinner.
Have you ever dined at Victoria & Albert's? What are your memories?