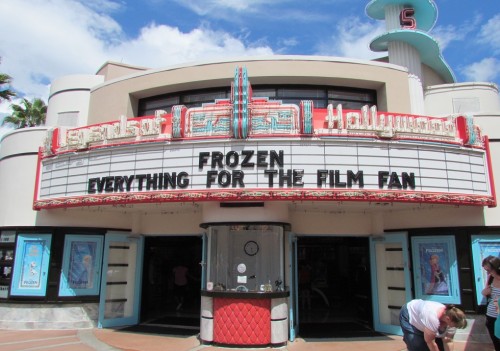 You've been hearing about a big change coming to Disney's Hollywood Studios… well it's not here. But there is some shifting around of the Frozen entertainment and shopping options. Disney is consolidating the Frozen entertainment at Disney's Hollywood Studios. The cavalcade and stage show is gone and the ice rink will soon melt away. But the sing-along is staying at premiere theater and Oaken's Trading Post is moving to a new home closer to that theater with an expanded "snow play area" where you can build a snowman, if you want to. (It's actually the old exit store for Backlot Tour, which also just closed.)
But that's not the only change. The Legends of Hollywood Store on Sunset Blvd has been taken over by Frozen merchandise as well. Here's a short video from inside.
We're not sure if this is permanent, but judging by the decor they made, I think they're thinking long term. The new Starbucks will open right next door in February, actual displaced some of the kid-targeted retail space, but it was a good mix off stuff, not just Frozen.
This store was never really all that well trafficked, but that might change when Starbucks opens. On the other hand, it might finally signal that the park has hit its saturation point for things Frozen.
What do you think?