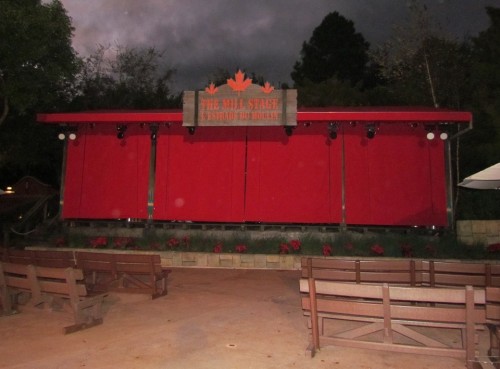 September was the end of an era at EPCOT was four of the entertainment acts loved and cherished by fans were not renewed and new acts announced. In the Canada pavilion the band "Off Kilter" will be replaced by "The Paul Bunyan Lumberjack Show", which is actually a local Central Florida act. (And by the way, isn't Paul Bunyan an American's legend? I guess we can share with our neighbors to the north.)
The group announced via Facebook (now deleted) that they were officially getting a year-round show at EPCOT. The Orlando Sentinel quotes the group's website:
"The Paul Bunyan Lumberjack Show is a historical, educational, humorous show, filled with audience participation," the site says. In its portfolio are log rolling, chopping, sawing, axe throwing, tree climbing, dragster chainsaw and "log-rolling dogs," the site says, but it does not say what to expect at the new Epcot show.
That's a pretty big change switching from strumming the axe to throwing the axe. It does highlight one of Canada's major industries, I just hope they do it in a manner that is respectful to global issues such as climate change and natural habitat destruction. It's okay to harvest responsibly, but we really need to be planting twice as much as we cut down these days to reverse the harmful trends. I hope to see those themes represented responsibly in the new show.
Astute eyes have observed that the stage was rethemed to a logging mill a couple of years ago. So how long has this change been planned? Who knows? But it is official and EPCOT's entertainment options will look very different starting as soon as next month.