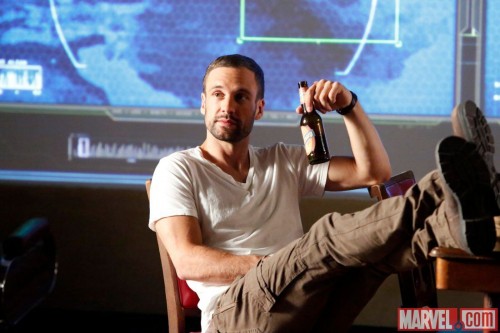 "Marvel's Agents of S.H.I.E.L.D." is almost ready to return for another round of adventure with Director Coulson and his team. The we know know the season premiere will be titled "Shadows" and we have the official synopsis as well.
It looks like there will be plenty of new faces along with our returning favorites. Along with previously announced guest stars like Adrian Pasdar and Lucy Lawless, we also get introduced to Nick Blood who will be playing Lance Hunter, a mercenary and potentially a new member of the team.
If you read the credits closely you'll see that Hayley Atwell will be guest starring as Peggy Carter. She will have her own show later as Agent Carter set in the post-Captain America era of S.H.I.E.L.D.. So keep an eye out for her appearance.
Here's the official synopsis: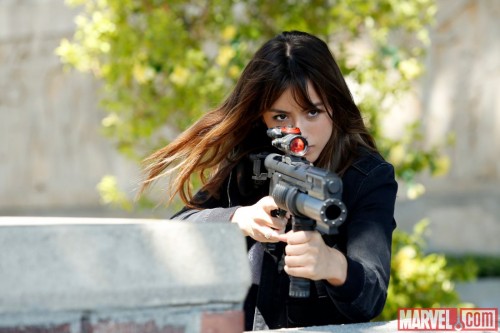 "Shadows" – Coulson and his team are now wanted fugitives with limited resources–but that's not stopping them from keeping the world safe from powerful and unseen threats everywhere. However, with new members they hardly know, will S.H.I.E.L.D. ever be trusted again? Watch "Marvel's Agents of S.H.I.E.L.D.," on the ABC Television Network.
"Marvel's Agents of S.H.I.E.L.D." stars Clark Gregg as Agent Phil Coulson, Ming-Na Wen as Agent Melinda May, Brett Dalton as Grant Ward, Chloe Bennet as Skye, Iain De Caestecker as Agent Leo Fitz, Elizabeth Henstridge as Agent Jemma Simmons and Nick Blood as Lance Hunter.
Guest starring are B.J. Britt as Agent Antoine Triplett, Nick Blood as Agent Lance Hunter, Adrian Pasdar as Brigadier General Glenn Talbot, Henry Simmons as Alphonso "Mack" Mackenzie, Patton Oswalt as Agent Billy Koenig, Lucy Lawless as Isabelle "Izzy" Hartley, Wilmer Calderon as Idaho, Reed Diamond as Daniel Whitehall, Hayley Atwell as Peggy Carter, Brian Patrick Wade as Carl Creel, Matthew Glave as Roger Browning, Simon Kassianides as Sunil Bakshi, George Stephanopoulos as self, Raquel Gardner as Carla Talbot, Ben Turner Nixon as Hydra Officer, Franco Vega as Military Leader, Rich Ceraulo as Soldier #1, and JB Tadena as Private Tilden.
"Shadows" was written by Jed Whedon & Maurissa Tancharon and directed by Vincent Misiano.