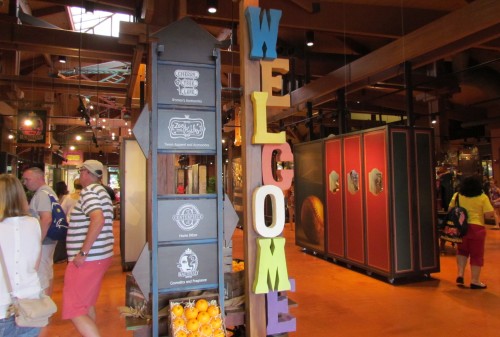 Last weekend I went on a brief walking tour of the new Marketplace Co-Op in Downtown Disney Orlando. This location will serve as a testing ground for new store concepts for Disney. If it is popular, a concept could eventually get its own store elsewhere in the resort.
Here are the six original concepts:
Beautifully Disney – A beauty destination for women featuring make-up, fragrance and beauty accessories;
Cherry Tree Lane – Accessories for the sophisticated woman with a passion for scarves, shoes, bags and jewelry;
D-Tech on Demand – A place to personalize and customize your own electronic accessories;
The Trophy Room – Vintage-inspired, lifestyle sports apparel and collectibles;
Disney Centerpiece – Home products offering a splash of Disney in room furnishings, textiles and everyday ware;
Zoey and Pickles – A girls' destination with the latest trends.
Now join me on a walking tour:
I'd love for them to do the same thing with food, come to think of it.
Some of these items can be found at Disneyland or Walt Disney World, but if you can't make it to either location soon, you can find a selection of them in the Disney Parks section of The Disney Store.
Previously: Disney Springs construction progress update.