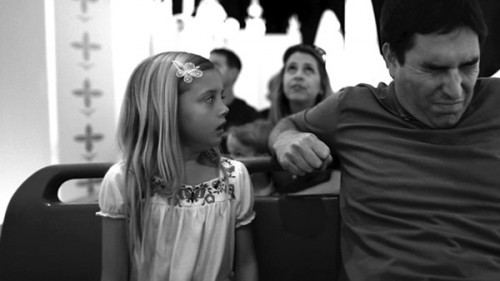 Last year, the fantasy-horror film "Escape From Tomorrow" made headlines when it was shot at Walt Disney World without permission from the park. Now you can see what all the fuss was about if you have a Netflix streaming account.
Escape From Tomorrow tells the tale of a middle-aged father who finds out he has lost his job and takes his family to Disney. He slowly starts to unravel from the stress of keeping the news from his family, and starts experiencing paranoid visions and bizarre encounters.
The film was shot in black & white over 25 days of keeping the shooting as covert as possible. It debuted at Sundance in January 2013, and had a limited theater and VOD run in October 2013. It was released on DVD April 29 of this year.
You can stream the film at this Netflix link. You can also find out more about the film, including how many weeks since the film's release that they haven't been sued by Disney, at escapefromtomorrow.com.
Here is the most recent trailer for Escape From Tomorrow:
Will you watch it?