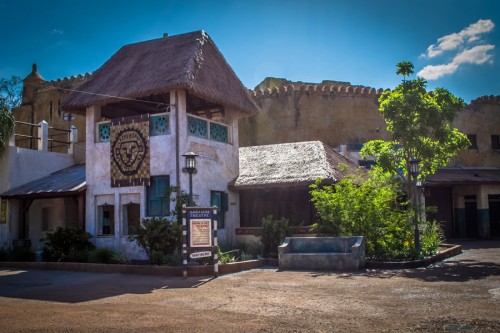 Good news for fans of Walt Disney World's best rated show, "Festival of the Lion King." The Harambe Theatre looks nearly completed in its home in the Africa section of Disney's Animal Kingdom. When the theater opens in June, the story of The Lion King will once again be celebrated by the immensely talented cast and crew. But first, the cast and crew has to get used to their new home. Disney has provided this video showing their first look at their new theater, both onstage and backstage.
We just learned that Festival of The Lion King will return to Disney's Animal Kingdom in June 2014 in the newly built Harambe Theatre. Below is some video from the end of April looking at the construction of the theater. The video is taken from the bridge to Asia and then from Africa by the Dawa Bar.
Thanks to Disney for the preview photo of the Harambe Theatre above.
Are you looking forward to the return of the Festival of The Lion King show? Do you expect them to make any changes or will you be happy to see the same old show back, just in a fancy new theatre, finally in the right section of the park?