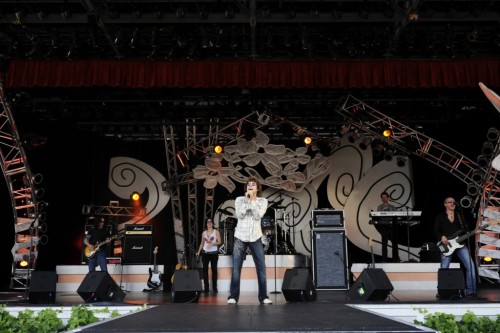 If you're planning on visiting Walt Disney World for the 2014 EPCOT International Food and Wine Festival, you may want to plan your trip around which acts will be performing at the Eat To The Beat Concert series, which runs simultaneous to the Food and Wine event. Disney has announced new acts for this year include Jo Dee Messina, Fuel, and Los Lonely Boys. Among the returning acts are a few that usually have great shows including STARSHIP starring Mickey Thomas, Hanson (believe it or not), and Boyz II Men.
Check out the full schedule below.
Sept 19-21 – Jo Dee Messina
Sept. 22-23 – The Pointer Sisters
Sept. 24-25 – Rick Springfield
Sept. 26-27 – Christopher Cross
Sept. 28-29 – Hanson
Sept. 30-Oct. 2 – Air Supply
Oct. 3-5 – STARSHIP starring Mickey Thomas
Oct. 6-8 – Sugar Ray
Oct. 9-10 – Fuel
Oct. 11-12 – Sister Hazel
Oct. 13-14 – TBD
Oct. 15-16 – Billy Ocean
Oct. 17-19 – Night Ranger
Oct. 20-22 – Smash Mouth
Oct. 23-24 – Jim Brickman
Oct. 25-26 – Los Lonely Boys
Oct. 27-28 – Wilson Phillips
Oct. 29-31 – Dennis DeYoung, original member of STYX
Nov. 1-2 – 38 Special
Nov. 3-5 – Boyz II Men
Nov. 6-7 – David Cook
Nov. 8-10 – Big Bad Voodoo Daddy
I'm interested to see Jim Brickman on the list this year. His Disney Songbook album is a popular one among fans. Which band on this year's list are you most looking forward to?