Disney, Marvel, and Netflix have announced they are collaborating on four new series and one mini-series based on the Defenders characters, which will shoot in New York City.
In a press conference, Bob Iger, Chairman and CEO of The Walt Disney Company, joined NY Governor Andrew M. Cuomo and Marvel's Chief Creative Officer Joe Quesada, in announcing the groundbreaking new deal, which will bring Marvel's "flawed heroes of Hell's Kitchen" characters to Netflix.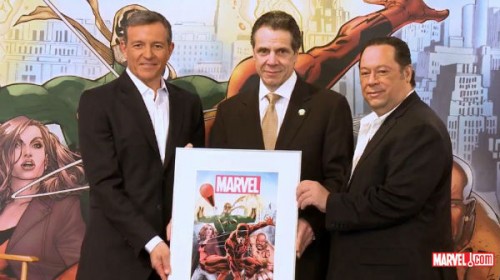 The project will focus on the four Defenders characters: Daredevil, Jessica Jones, Luke Cage and Iron Fist. Each character will get 13 one-hour episodes, and then their stories will be merged together into a four-to-eight episode mini-series as The Defenders.
Casting hasn't been announced, yet, but filming is set to begin in the Summer 2014, with Daredevil being the first to air in 2015. Since the series will air on Netflix, expect all 13 episodes to drop at once for binge-viewing.
"We thank the Governor and the great state of New York for helping us create the ultimate backdrop to this epic series. Setting our production in New York City truly underscores the authenticity and excitement we plan to bring to The Defenders and their 'flawed heroes of Hell's Kitchen' stories," said Alan Fine, President, Marvel Entertainment, in a press release.
Here is a highlight video from that press conference, courtesy of Marvel:
Beginning with 2016 theatrically released feature films, Netflix will also be the exclusive U.S. subscription television service for all first-run, live-action and animated movies from the Walt Disney Studios, including titles from Disney, Walt Disney Animation Studios, Pixar Animation Studios, Marvel Studios, Disneynature and Lucasfilm.
Are you a Netflix subscriber? How do you like this news? If you're not a subscriber, is this more likely to make you join?