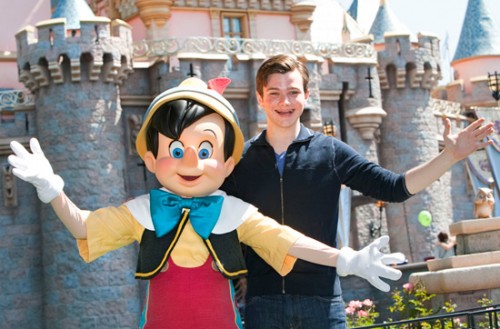 If you hang out at Disneyland on multiple days of the year, there's a really good chance you've had a close encounter with a celebrity. They're relatively easily spotted, just look for the famous plaid of Disneyland's guest relations tour escorts and there is bound to be someone important nearby. The escort is there because the risk of a disruption without the plaid to run interference is too great. If they back door an occasional attraction, that's in the name of safety too.
Here's a short list of some of the celebrity encounters I had during my time hanging out at Disneyland:
I was followed around Disneyland by Marie Osmond on two different visits (every attraction we went on, she was either debarking from or riding right after us). Saw Michael Jackson in the park at least four times (one day he rode Matterhorn in a car behind me (an empty car was between us)). I saw tons of celebs on Indiana Jones Adventure media day. That day, I was waiting on the curb for the parade when Superman (the Dean Cain incarnation) stepped on my leg as he left the street.
Later, I saw Carrie Fisher (whom my wife pointed at and said "that looks like Princess Leia's Mom" (she did)) and Meg Ryan dining with their families at Club 33. Poor Meg looked like a drowned rat after getting soaked on some attraction. Lorenzo Lamas came with his son a lot. John Stamos, who famously bought the Disneyland letters from the 80s era marquee (we owned the Castle from the top of the Marquee for a while), is a big lover of the park. I've also seen him at Give Kids The World where he volunteers to make magic for some of the guests from time to time.
Disneyland itself often distributes pictures of celebrities in the parks (see Chris Colfer from Glee above), usually for some sort of cross-promotion. My standing policy is that if the celebrity is there for an event as an invited guest, then it's okay to take photos even ask for an autograph. But if they're just there to enjoy the park, then I leave them alone, no photos. Although if I get the opportunity, I will tell them how much I enjoy their work. That's if the plaids let me get close enough.
While I don't write about any of these particular encounters in my new book Dispatch from Disneyland, there are many stories that will make you laugh or cry, maybe will teach you a thing or two, but mostly it will make you wish you were at Disneyland. Order today from www.DispatchFromDisneyland.com. I thank you for your support.