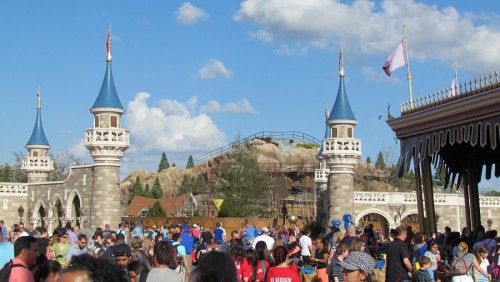 The last attraction to open in the Magic Kingdom's New Fantasyland expansion is the Seven Dwarfs Mine Train. It's a completely new kind of roller coaster with cars that swing back and forth. This allows for tighter corners and a slight increase in the thrill, while still keeping it kid friendly.
If it seems like the project has been taking forever, you're partly right. Vertical construction of the coaster only began in March of 2012. It is currently expected to open sometime in early summer of 2014, which puts it at a little over two years from dirt to ride opening. Don't make any plans based on that rumor as it may be pushed back. That's about the speed for a major new attraction at Disney these days.
Those who have been paying close attention to the blog know I had an emergency surgery to correct a heart defect, so I've been limited in what I can do in the parks, but I was able to get out and get some new video and photos from the scene earlier this week.
There is significant progress from my November 6th update. The mountain is starting to look like a mountain, with actual real trees and some artificial ones dotting the show building. Queue and show elements are beginning to be installed and actual testing of cars on the track is occurring. Not on the day I was there unfortunately, but I did capture some video of the mountain to share with you:
Many more pictures of the construction site below the jump:
What do you think of how Snow White's Mountain is coming together? (Yes, I think that should be the name of the mountain… the attraction can remain Seven Dwarfs Mine Train.)