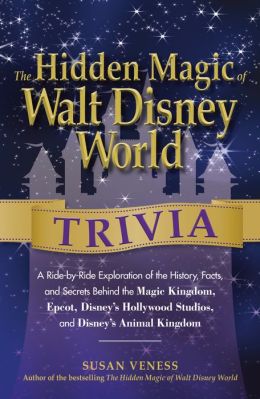 Are you a Disney World expert or a relative newbie? Maybe your level of expertise is multiple choice questions or do you like to really hunt for answers while on your trip? What if you have a family with both levels in it? Good news, there is a Disney World trivia book for you. The Hidden Magic of Walt Disney World Trivia: A Ride-by-Ride Exploration of the History, Facts, and Secrets Behind the Magic Kingdom, Epcot, Disney's Hollywood Studios, and Disney's Animal Kingdom
is a quite a mouthful, but don't be put off by the long title. It's just because there's a lot packed into the book.
The book is definitely well suited for children of all ages. My son likes to grab the book off the shelf, track me down and quiz me. It's a lot of fun and sometimes I'm even stumped. I can imagine it would be a great book to bring with you in the car or on the airplane on your way to Walt Disney World. You can answer the easier trivia along the way, then try and hunt down all the tougher questions once you're in the parks.
Order today on Amazon and save 30% on the Kindle version and 20% on the paperback.