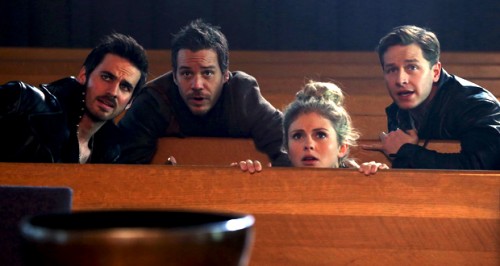 Sunday night we get the winter finale of Once Upon a Time, and they have been promising for a long time now that this one will wrap up the Neverland storyline.
How they will do that in one hour, I have no idea. But this show packs so much into an hour, I've no doubt they can do it. It may help if there's no flashback. I haven't heard about one, so we'll see if there is one or not. We may be in Storybrooke full time.
There's certainly a mess to clean up there since Pan, still hiding in Henry's body, is about to unleash the curse yet again on Storybrooke. Only this time, the thread of true love isn't in it, so everyone will forget who they are and it will be that way forever. Talk about your high stakes.
Meanwhile, I'm most curious about the Blue Fairy. Is she really dead? I was surprised that they potentially just let me die like that with so little fan fare. I mean, she's been a pretty important character all along. I hope they find a way to bring her back.
Anyway, this looks to be an action packed hour.
The show won't be back until March 9th, at which point they will have 11 more weeks in a row. I already can't wait!
See you Monday night with my recap over at Carstairs Considers.