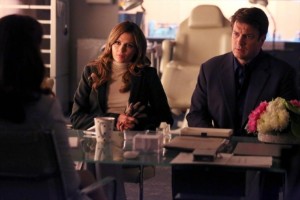 While the show focuses on Castle and Beckett most weeks, they do give the supporting cast a chance to shine every once in a while. This week is Lanie's turn, and it looks to be quite suspenseful.
The murder victim that starts off the episode is a dead ringer for Lanie right down to her tattoos. So, is that a coincidence or is Lanie a target?
These type of episodes are nothing new on mystery shows, but they can be quite good and suspenseful when done well. And Castle has proved it can take the familiar plots and make them surprisingly fun.
I'm hearing rumors that this episode will also give us a chance to find out where Lanie and Esposito stand these days, so all the shippers out there (like me) who want to know more about that will be happy to tune in and find out if there is any hope for this couple.
And we get to see Annie Wersching from 24 in one of the guest star spots. That should be fun.
All this kicks off after the semi-finals of Dancing with the Stars on Monday night. I can't wait to see where it goes. See you at Carstairs Considers on Tuesday with my thoughts on the episode.