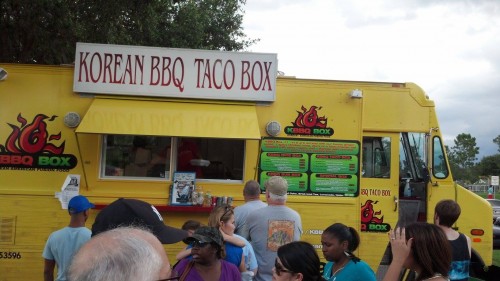 I'm a big fan of the food truck scene here in Central Florida. That's my current favorite truck above! Downtown Disney has experimented off and on with adding a food truck to the lineup with mixed results. For a couple of months, there's a been a taco truck parked near Raglan Road, but every time I walk by it's been closed. They've also invited a truck or two to visit during big events like the Car Masters show.
I think they've finally hit on an idea that will work. And it will help fill a crucial need during the transition to Disney Springs. Four food trucks with a decidedly Disney influence have been announced. Each will be themed to portray elements of a different Disney theme park.
"Enchanted Fare" will serve favorites from Disney Parks around the world; think Croque Monsieur from Magic Kingdom Park, Glass Noodle Salad from Hong Kong Disneyland and (my favorite!) Hand-Dipped Corn Dogs from Disneyland park.
"The World Showcase of Flavors" is expected to feature items from the Epcot International Food & Wine Festival such as Grass-Fed Beef Sliders, Pierogies with Kielbasa and Lobster Rolls. Yum!
"Superstar Catering" will shine the spotlight on a wide array of meatball options fit for a Hollywood set; the Lamb Meatball Flatbread with Tzatziki sounds especially credit-worthy.
"Namaste Café" plans to feature a nice mix of spices with dishes including Butter Chicken, Slow-Cooked Beef Short Ribs and Tandori Spiced Shrimp. (I hear they'll all come with Naan Bread, so you can't go wrong!)
They all sound good to me. Any particular truck have your stomach doing backflips?
So far, no official launch day has been announced. So stay tuned.
Meanwhile, if you're in town and want to visit some authentic locally owned gourmet food trucks, be sure to check out the Food Truck Bazaar. There's bound to be one happening during your visit.