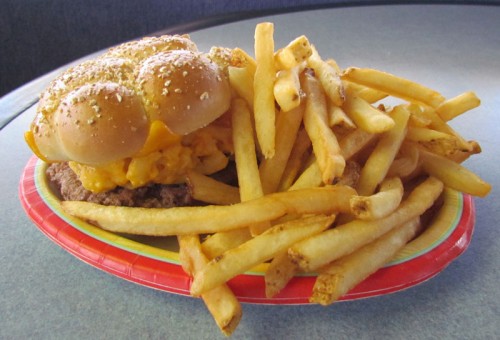 So I heard a Mac & Cheese Burger had been added to the menu at Electric Umbrella, which made my choice of themeparks to visit this weekend easy. Macaroni and Cheese is one of my favorite comfort foods and my kid has a full on love affair for the stuff.
To be honest, I was a bit hesitant when I first heard about the idea. I had tried the Macaroni & Cheese and truffle oil gourmet hot dog over at Fairfax Fare in DHS and wasn't impressed, not for the price at least. My son loved it, however. So we agreed to split the new burger and share a salad in an attempt to be a little healthier.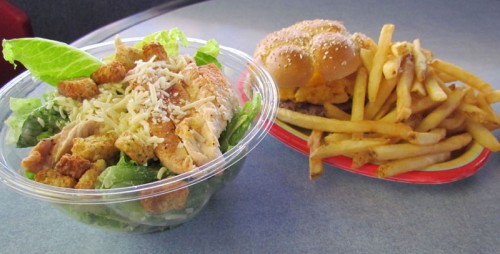 The Macaroni & Cheese burger is a full 1/3 lb Angus Burger that is topped with a generous portion of bacon, a nice slide of cheddar cheese, and a scoop of baked macaroni & cheese. You can also choose grapes instead of fries for your side. I found the bun a nice size, easy enough to get your hand around, if a bit crumbly. It's served dry, so stop by the condiment bar on your way to the table if that's your thing.
Now for the dissection. The photos above show exactly how it came out of the kitchen. Taking the top off you can see that the bacon is all on one side and the cheddar and macaroni and cheese weren't evenly distributed either.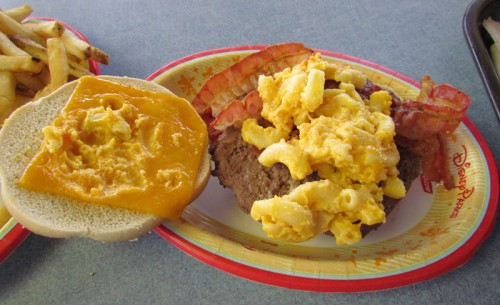 Presentation is important, so I straightened everything up and distributed it evenly before slicing it up for the cross-section view. You can see that the 1/3rd lb patty was actually juicy and pink in the middle, something you don't get often at a Disney counter service.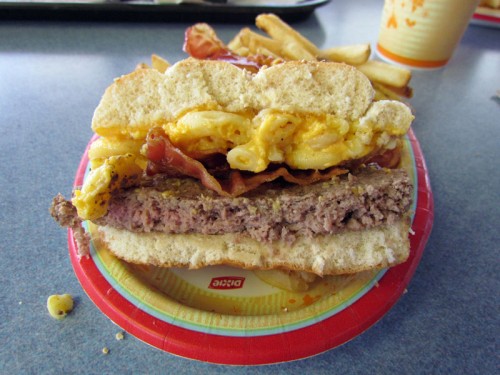 You have to wonder if the slice of cheddar cheese is redundant in the Mac & Cheese, but I would argue no. It gives the burger a depth of flavor that the baked mac & cheese just didn't have. My condiment of choice on burgers is BBQ sauce, when I added a small amount the the burger, it brought a sweetness that really made the whole thing pop.
Prices for everything are going up at Disney, so don't be too shocked by the $10.49 price for a burger and fries.
My big issue with the Electric Umbrella is the lack of tomatoes, lettuce or pickles at the condiment bar. While this is a very good looking burger (when assembled correctly), I like the crunch of crisp lettuce on my burger. It would be great if they offered this burger at Pecos Bill's, where I can get the full condiment bar and delicious sweet potato fries to go with it.
I was happy to try the Macaroni & Cheese Burger and suspect it will make it into the regular rotation of lunch spots when we visit EPCOT. Will you give it a try on your next visit?