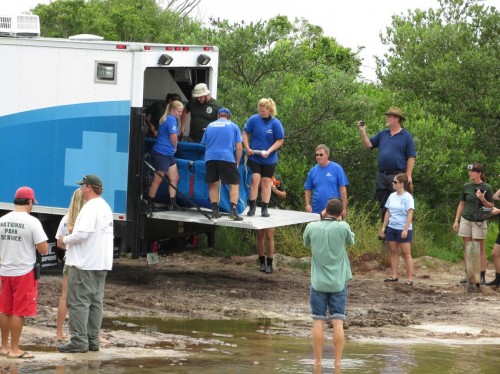 Asaka, Braille, Nitty and Pipsqueak, four female sub-adult manatees, were happily released into the warm waters of Eddy Creek on Thursday July 18, 2013 by SeaWorld Orlando's Rescue Team. Three of these manatees were rescued in December of 2012 after being trapped in a mosquito embankment in the Merritt Island National Wildlife Refuge and suffering from mild cold stress. The fourth manatee, Asaka, was rescued this past March due to buoyancy issues.
After spending months at SeaWorld Orlando being rehabilitated all four manatees, ranging in weight between 400lbs to 775lbs, were declared healthy and ready to return to their natural habitat. Each manatee was weighed and measured before being released. They were also fitted with a tag so that the Florida Fish and Wildlife Commission can track their movement and progress. The release was bittersweet for those who had the pleasure to work with these magnificent creatures, happy to see the animals swim away and start to thrive on their own but sad to see them go.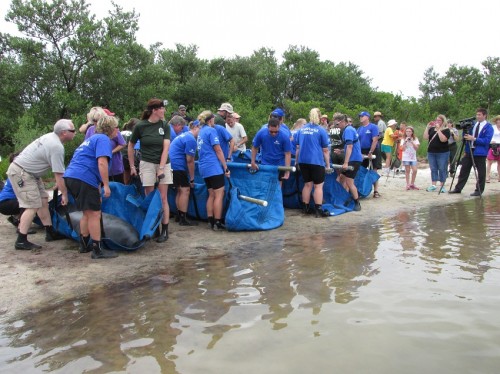 The release happened very quickly. Four teams carried the manatees in their "stretchers" into the water and the manatees rapidly swam away. However, after swimming a few yards one of the manatees turned around and came up a little out of the water, as if saying goodbye and thank you to the team that helped save her.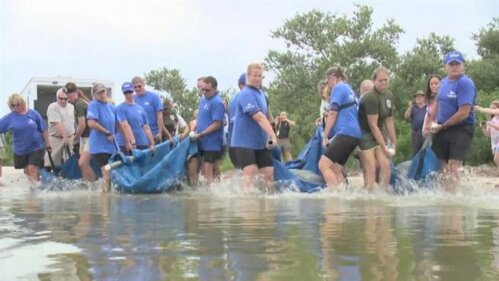 SeaWorld's marine animal rescue program is just another reason for you to support the company with a visit on your next trip. In collaboration with the government and other members of accredited stranding networks, SeaWorld Parks & Entertainment operates one of the world's most respected programs to rescue ill and injured marine animals, with the goal to rehabilitate and return to the waters. SeaWorld animal experts have helped more than 22,000 animals in need – ill, injured, orphaned and abandoned – for more than four decades. So far this year, SeaWorld Orlando has rescued 13 manatees and returned seven after today's return.