Let me take you back to 2006. I was 9 years old and High School Musical had just premiered. It blew up at my school, my day care, everywhere. It was THE defining film of my age group at the time. If you didn't know the songs, something was wrong. Then the sequel premiered the following year to even larger numbers, thus making the film even more loved by my fellow pupils. The third film was released into the theaters in 2008 solidifying its popularity. Don't forget that the movies also spawned live stage productions, ice skating shows, theme park entertainment, a live tour, a reality TV show, and enough merchandise to make you puke.
After some not so successful DCOMs recently, Disney tried to bring back the HSM formula with "Teen Beach Movie," which premiered this past Friday night. Two teens go surfing and end up being transported to a 1960's "Frankie and Annette" -esque beach film. When they accidentally hook up with the two leads, they change the course of the movie and only have so much time to reverse the film.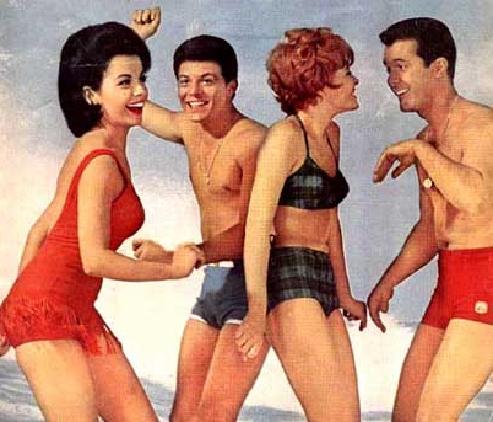 I had pre-ordered the soundtrack beforehand, so I had listened to it in full a few times before I viewed the film. All the songs are very catchy and are leaving me singing them for hours/days after. The stand outs were definitely "Like Me" and "Surf's Up".
After I listened to the CD, I watched the film and FELL IN LOVE! I had become obsessed with the film beforehand (ask anyone who has come in contact with me in the past month), but the movie lived up to my expectations. The story was very interesting, with the switch between present day and the 60's being very cool idea for a DCOM to take on. I especially loved when they were surfing in present day, it was really surfing, but when they were surfing in the 60's, it was in front of a green screen just like "Beach Blanket Bingo" and others.
The film did have some feminism undertones featured as well. Mac tries to make the Biker girls realize that they don't always have to do everything for the guys. They have their own personalities and should show them off. I thought this was a nice plot point and not only a great thought to try and abolish 60's stereotypes, but also for girls (and guys, for that matter) of today. Just be yourself and don't let anyone change that.
Maia Mitchell is Disney's newest star, with a lead role on ABC Family's "The Fosters" as well as TBM, and she SHINES! Her voice is fantastic, her humor is wonderful, she is just an all around fantastic addition to the Disney family. I know Annette would have been proud.
The only flaw was the scientist plot of the film. I realize every 60's beach film had some type of story arc like it, but it didn't mesh well with the rest of the film. For that, I will give the film an A-. An incredibly fun and energetic DCOM that is a franchise I approve of.
8.4 million viewers tuned into the premiere, making it the #1 TV movie of 2013, #1 DCOM for 4 years, and the #5 DCOM of all-time. This begs the question…when does the High School Musical-type takeover begin? The original HSM only took in 7.7 million viewers, and this exceeded that. Can we expect a tour or sequel announcement soon? The ending of the film set up for a sequel brilliantly, so maybe the D23 Expo might even give away some sort of announcement.  It also makes you wonder, when they announced the closing of Disney Channel Rocks at DHS recently, was that in preparation of a TBM show? We will just have to wait and find out.
Overall, I would check out this film, no matter what age you are. I will be kicking and scratching my way to an audition for a sequel :) (Seriously though, I loved it THAT MUCH!)
What did you think of the film? Are you ready for another HSM style global domination? Doesn't this make you want to go to Typhoon Lagoon? Let me know in the comments below. Until next time…SURF'S UP!