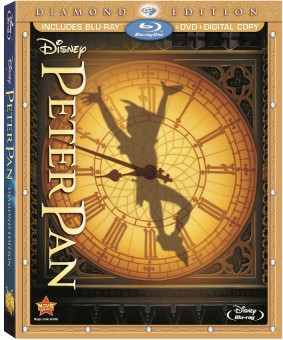 When I first saw the cover for the new Diamond Edition DVD, I knew right away I had to add it to my collection. It's so iconic with Pan's shadow on the face of Big Ben. But the cover is just the beginning of the great features in a newly remastered set for the 60th Anniversary Diamond Anniversary Peter Pan DVD Blu-Ray set.
Although the DVD won't be available in stores until February 5, 2013 you can pre-order it today and then enjoy the new digital restoration and high definition picture and sound – for the first time on Blu-ray™ when it arrives at your door. The classic tale that taught us all "to believe" and first introduced us to the Darling children – Wendy, John and Michael – as they flew with Peter Pan and Tinker Bell past the second star to the right and straight on 'till morning to the enchanted world of Never Land. Rediscover the magical adventure and relive childhood memories of this great bedtime story.
The "Peter Pan" Diamond Edition Blu-ray Combo Pack (Blu-ray + DVD + Digital Copy & Storybook App) is a "must-own" addition to everyone's home entertainment collection, filled with high-flying bonus features for all ages with four new features including the groundbreaking feature Disney Intermission, Growing up with Nine Old Men short film, never-before-seen Deleted Scenes and a never-before-heard Deleted Song. That's a ton of great new feature.
"Peter Pan" is a timeless classic from Disney's Golden Age of animation. The film is one of three to boast all nine of Walt's famous "Nine Old Men" as Directing Animators, and is a revered audience favorite. "Peter Pan" Diamond Edition 3-Disc Blu-ray Combo Pack will be available for a limited time only.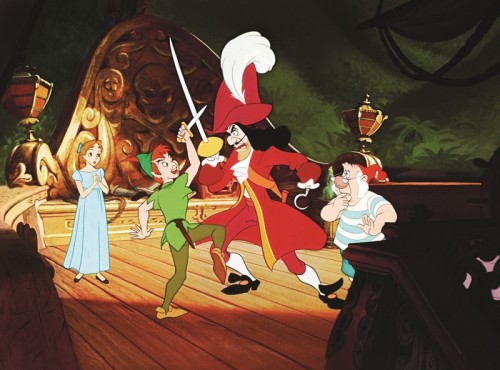 Disc Specifications:
Release Date: February 5, 2013 (Direct Pre-book: 12/11; Distributor Pre-book: 12/25)
Suggested Retail 3-Disc Blu-ray Combo Pack (BD, DVD, Digital Copy & Storybook App) = $44.99 U.S. / $51.99 Canada; 2-Disc Blu-ray Combo Pack (BD & DVD) = $39.99 U.S. / $46.99 Canada; Digital & On-Demand = please check with your television provider or favorite digital retailer for pricing
Bonus Features: Disney Intermission (new), Growing up with Nine Old Men (new), Disney View (new), Introduction by Diane Disney Miller (new), Deleted Songs & Scenes , You Can Fly: The Making of Peter Pan, Tinker Bell: A Fairy's Tale, Disney Song Selections, Audio Commentary Hosted by Roy Disney, Music Videos & More!
Rating: G (bonus material not rated)
Feature Run Time: 77 minutes
Aspect Ratio: 1.33:1
Audio: Blu-ray: 7.1 DTS-HD Master Audio (English); 5.1 Dolby Digital (French and Spanish)
Languages: English, French and Spanish
Subtitles: English SDH, French and Spanish
Pre-order it today from Amazon and support The Disney Blog while saving 33% off the suggested price.