Editor: Please welcome Chris Wood who will be sharing some of her valuable travel planning experience with us as a new guest author.
If you're staying on property, one of the first decisions you'll need to make is whether or not you should purchase the dining plan. While it's certainly convenient to pre-pay for your meals, the dining plan, touted as a money-saving option, doesn't work for everyone. Here are some things to consider before you add the plan to your vacation package.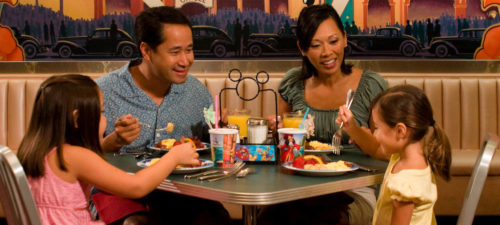 The most popular plan is the base dining plan, which includes one table-service credit, one quick-service credit, one snack, and one refillable mug per person for each night of your stay. This means that a family of three staying four nights will have twelve quick and table-service credits and twelve snacks. There's no order in which you have to use your credits; you just have to finish using them by midnight the day of check-out or you lose them. Credits aren't even assigned directly to individuals on the reservation, just by age. This year, guests 10 years of age and up will pay $55.59 per night for the plan; those in the 3 – 9 age group will pay $17.16.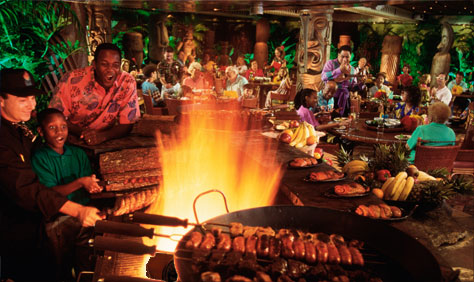 All dining plan credits are created equal, and this is the first place where you start to see the rationale of adding the dining plan fall apart. What this means is that whether you're eating a $40 character meal or a $15 entrée, the "value" of your table-service credit stays the same. If you're going to eat a lot of buffets or even if you're just going to eat the most expensive entrée on the menu, this can work in your favor. But if you tend to eat less expensive meals, the plan isn't a good option because you'll never break even. Similarly, while families with kids in the 3 – 9 year age group can't feed a child in the parks for less than $17.16 per day, making the plan an incredible bargain, a family with a picky ten-year old is forced to pay adult prices. It's understandable that a parent might balk at having to shell out $55 a day on a kid who might eat $20 worth of food.
When you use the plan, you're betting that you'll actually be able to use it to the fullest extent. This means that no one gets sick and misses meals, that you don't forget about a reservation, and that you don't mind taking time out from touring to sit down and eat a meal at least once a day. I've had trips where one of my children got sick and half of his table-service credits went to waste. I've also missed reservations and not been able to make them up because every restaurant we called was full. In that case, I used a table-service credit to buy a quick-service meal; there's no way I broke even on that trip.
Why does the plan work? Well, it's a number of things, really, and not all of them come down to dollars and cents. If you've ever had a $200 check handed to you at the end of lunch at Walt Disney World, you know how unpleasant that is. There's something about pre-paying that bill that makes it less painful. It's not just an issue of convenience; it's almost like your mind plays tricks on you—your giving Disney credits, not actual money. Why, it's practically free! Likewise, having the plan allows you to pick more expensive items than you might normally try. I tend to find myself "cheaping out" when I pay out of pocket. Maybe I'll go to Pecos Bills and have a burger instead of Be Our Guest for a turkey sandwich. But if it's pre-paid and I can order anything? I don't have to think about it.
Ultimately, whether or not the plan works for you depends on three things: 1) How you eat. If you're a light eater, it's rarely a good bet; 2) How you tour the parks. Theme park commandos might want to skip it; and 3) The make up of your group. The next time you book a vacation, don't listen to the voice on the other end of the phone telling you how much you'll save. Instead, think about how you vacation. That's the key to understanding whether or not it will work for you.